Slim | The new craftmanship
For the company's 100th anniversary, Arco asked 12 designers to create something that would lift the company into the next century - the Slim table. The wooden table is impossibly thin, but at the same time very stable due to the sandwich construction used. Now, 15 years after the design by Studio Bertjan Pot, the Slim table is still a bestseller in both the residential and commercial markets. Its simplicity makes it an all-rounder.
The new craftsmanship | Combining the knowledge and skills of our craftsmen with new technologies.
The basis of the Slim table are laid in the new craftsmanship. It is our mission to develop existing craft to craftsmanship of the 21st century, placing the integration of nature, craftsmanship and technology central. We wish to make beautiful and sustainable products with a social relevance. We continuously strive to find methods for improving. Innovation is a continuous process in this.
The seemingly 'impossible looking' Slim table involves the use of an innovative strong steel sandwich construction with a lightweight honeycomb-structure core, with a veneer wood frame. This construction allows the traditional Slim to reach an overall length of 280 cm, with the table top and legs having a thickness of 2.8 cm. The Slim+ collection goes a step further with a total uninterrupted length of 360 cm, with a table and leg thickness of 3.8 cm.  This makes the Slim table timeless minimalism.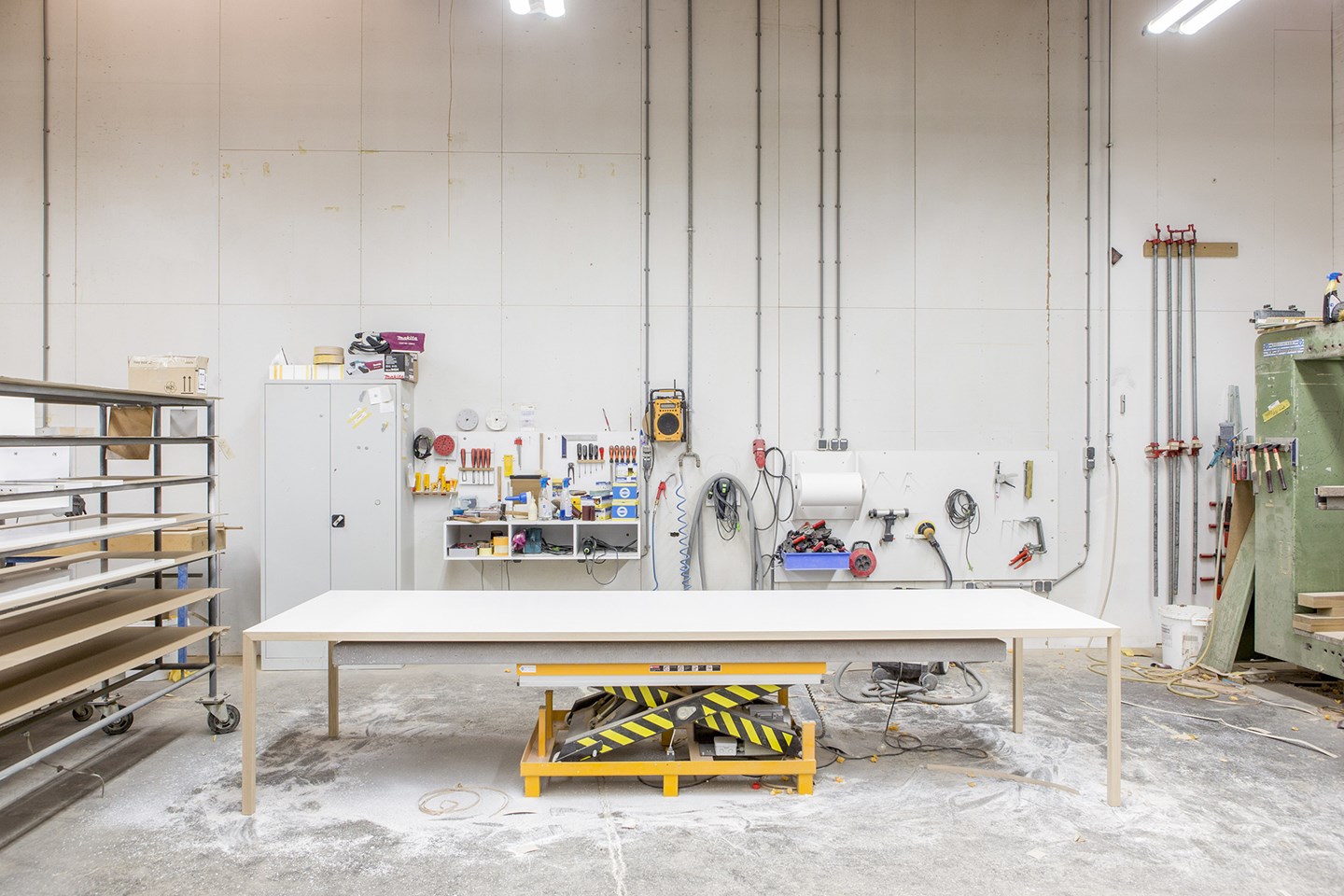 "Some may consider the Slim table as 'impossible', but nothing could be further from the truth, the design is extremely innovative and pure where the impossible is made possible. All materials have been used in the fairest way possible: metal for a strong construction and wood for tactility and an attractive exterior. Without innovation, minimalism is a dead end." 
Bertjan Pot - Designer of the Slim family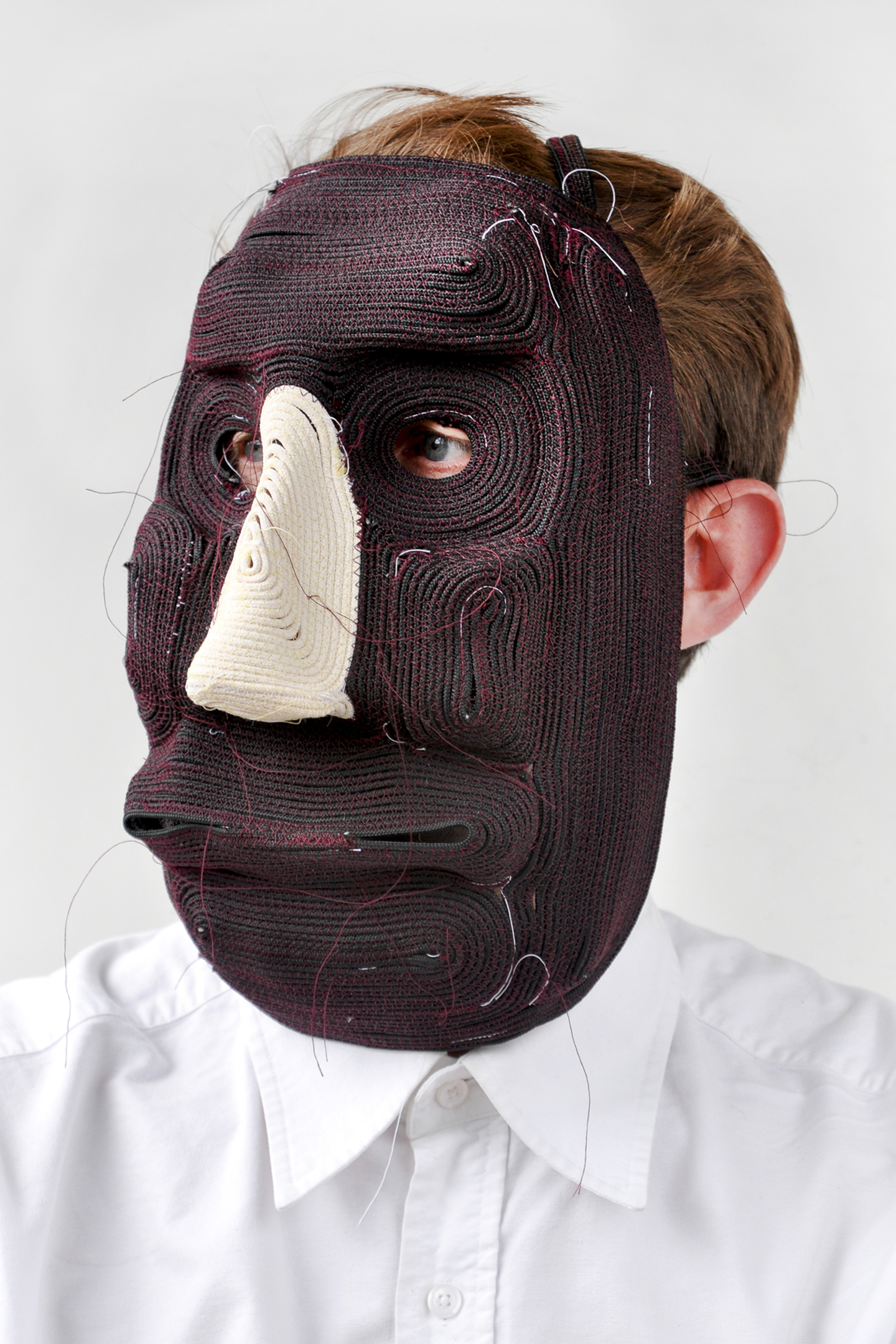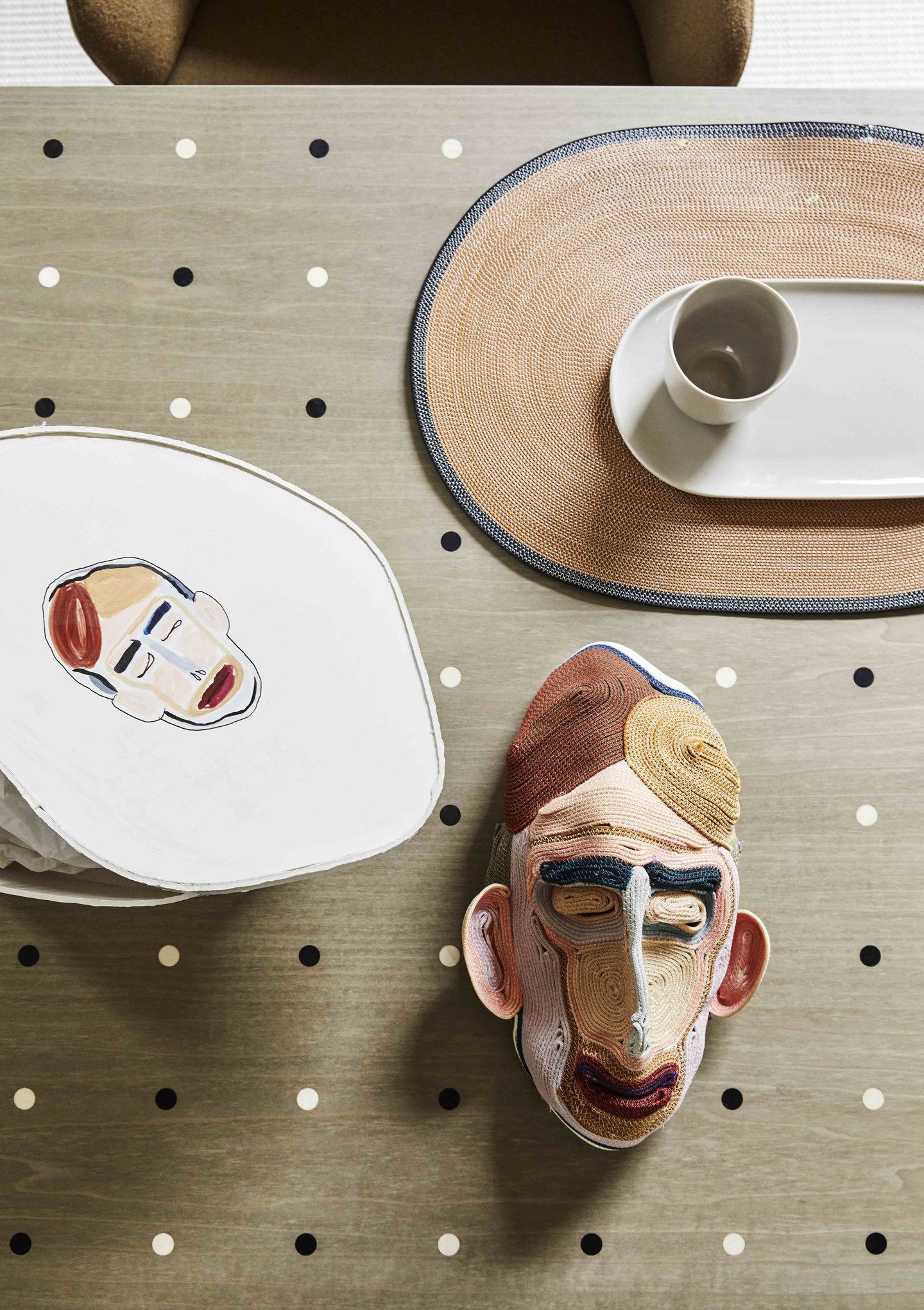 Slim wooden table | Sandwich construction of steel and honeycomb framed in veneer
The Slim collection is framed with a thin layer of wood veneer, glued to the strong sandwich construction of steel and honeycomb. The veneer is made of PEFC and/or FSC® certified wood and provides a high-quality appearance and tactility. The veneer makes optimal use of the tree trunk and ensures a beautiful, even wood structure on the table.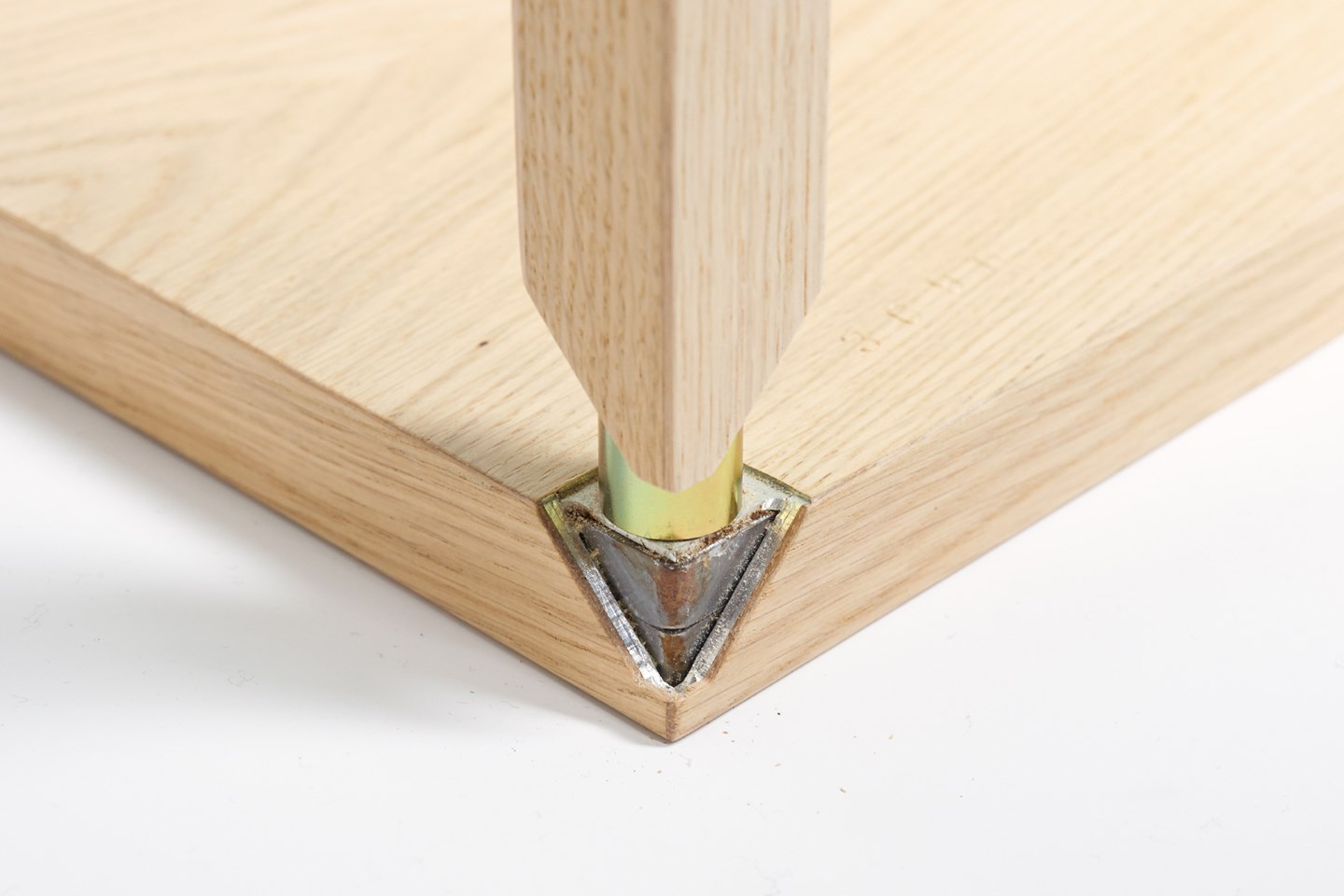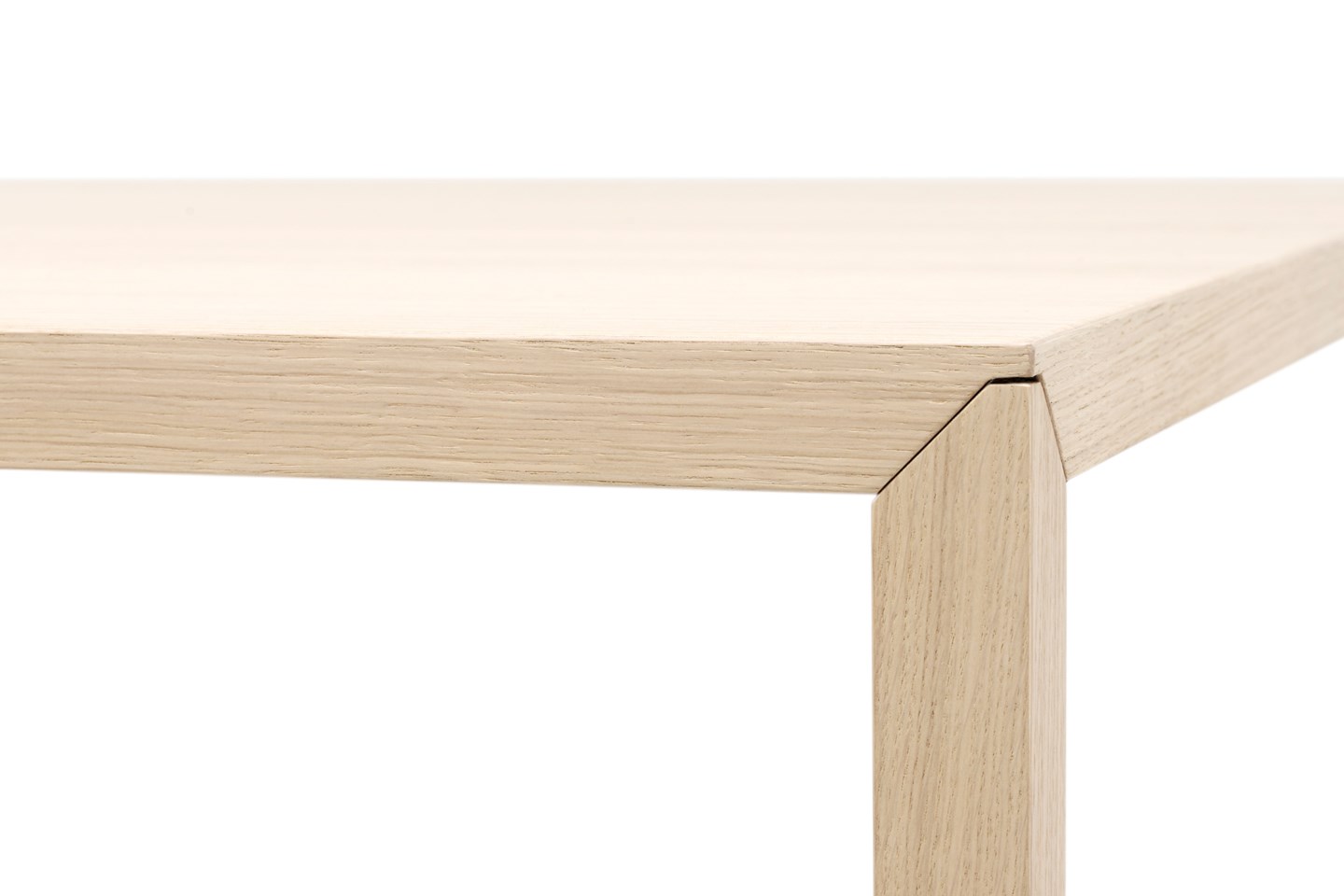 Slim collection | A wide range of versions and various shapes of thin tables for every interior.
The Slim collection has existed for 15 years and in that time has grown into a rich design collection where the Slim table construction forms the basis. The collection consists of the original Slim table and bench. This collection has been expanded to include the Slim+ for a wider range of heights and lengths. A longer version Slim+ table and bench, Slim+ high, Slim+ round, Slim Flex and Slim+ Connected.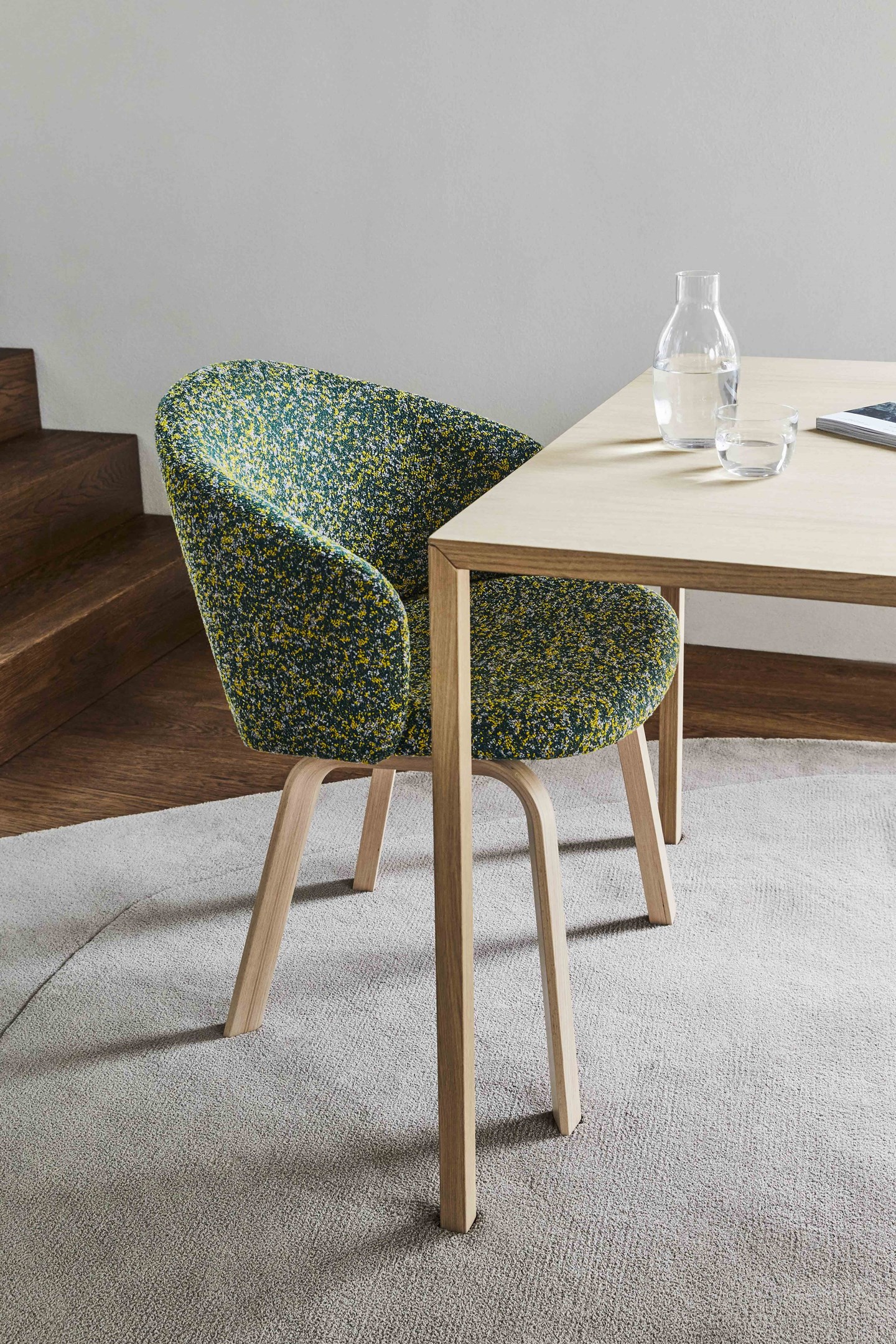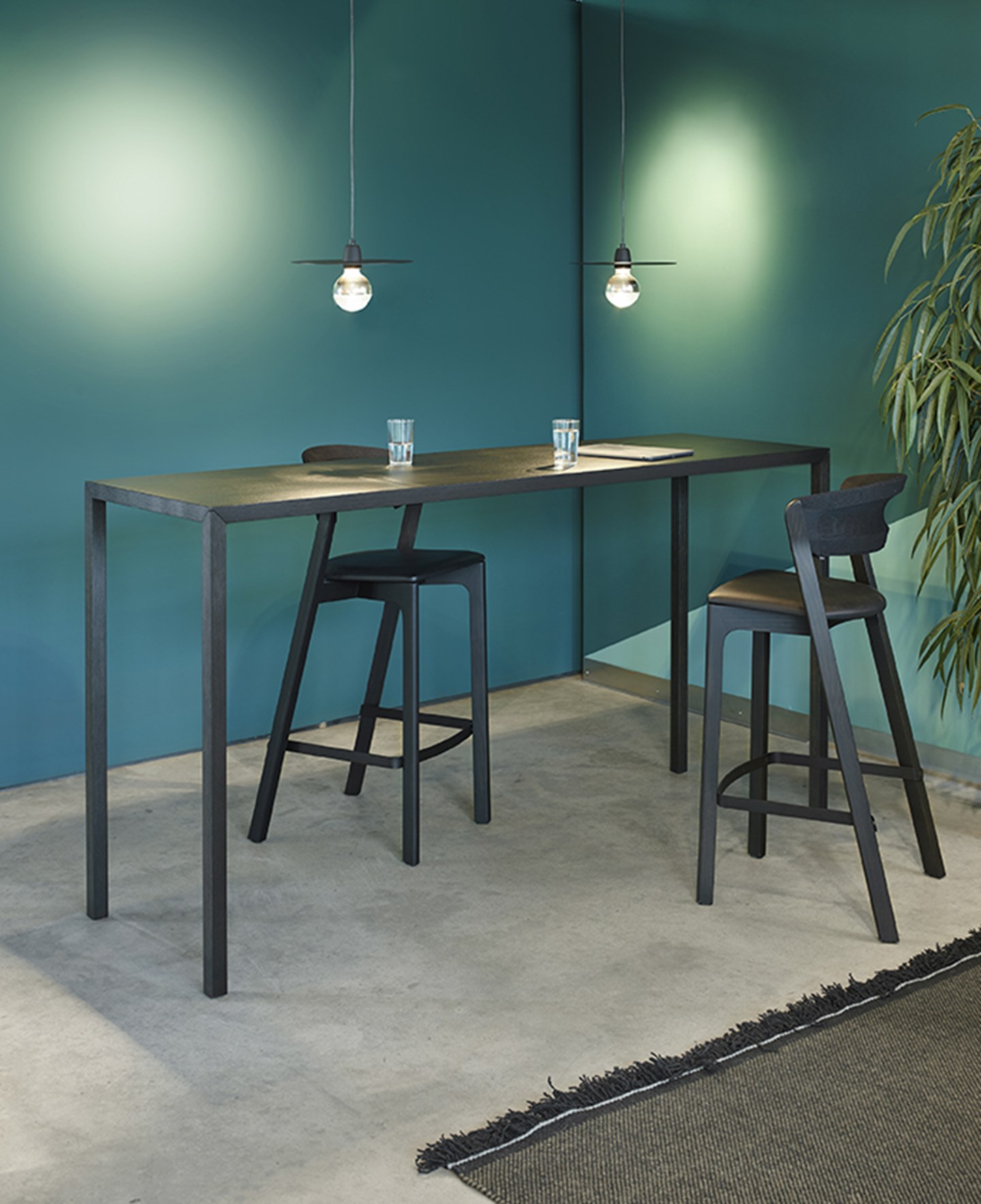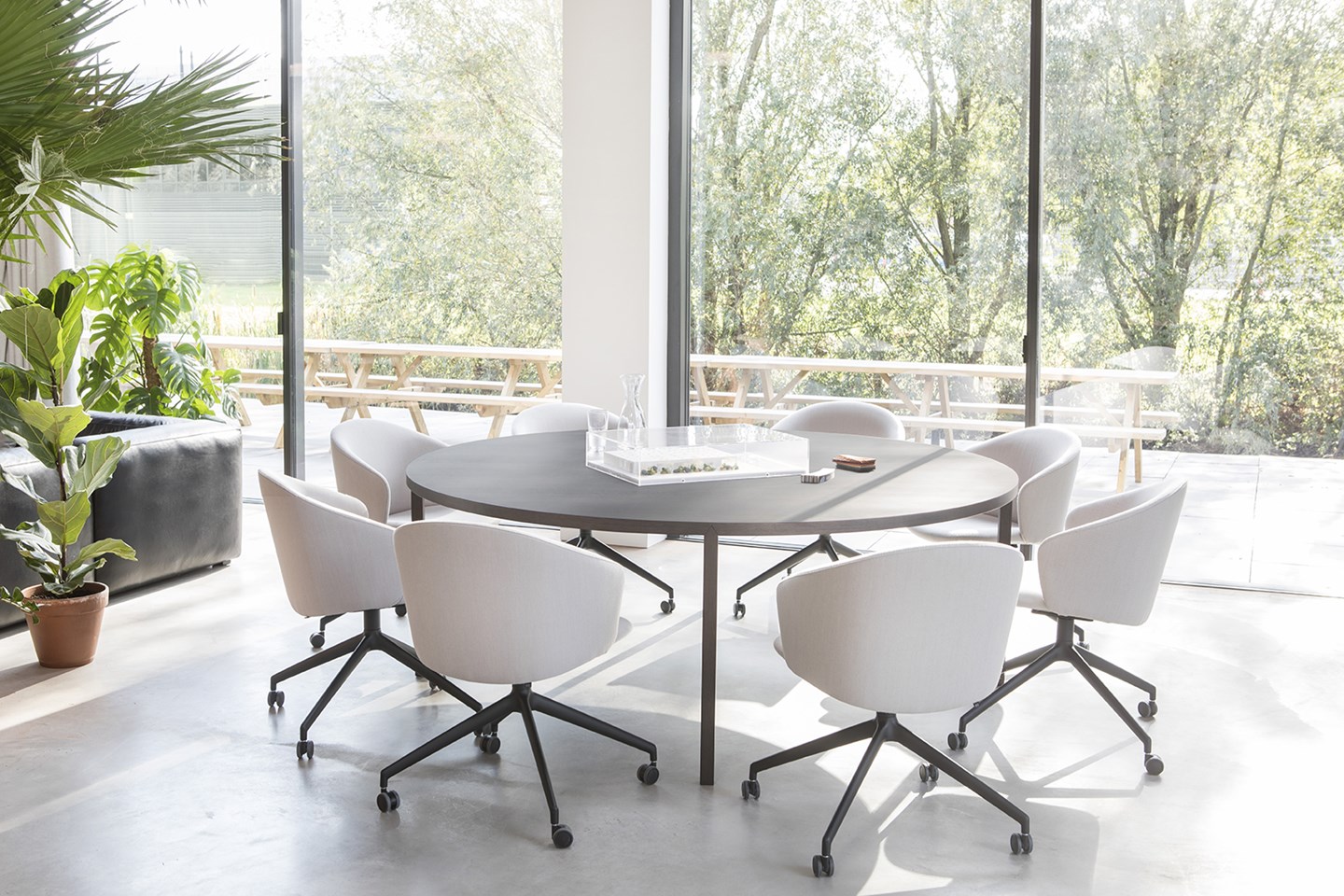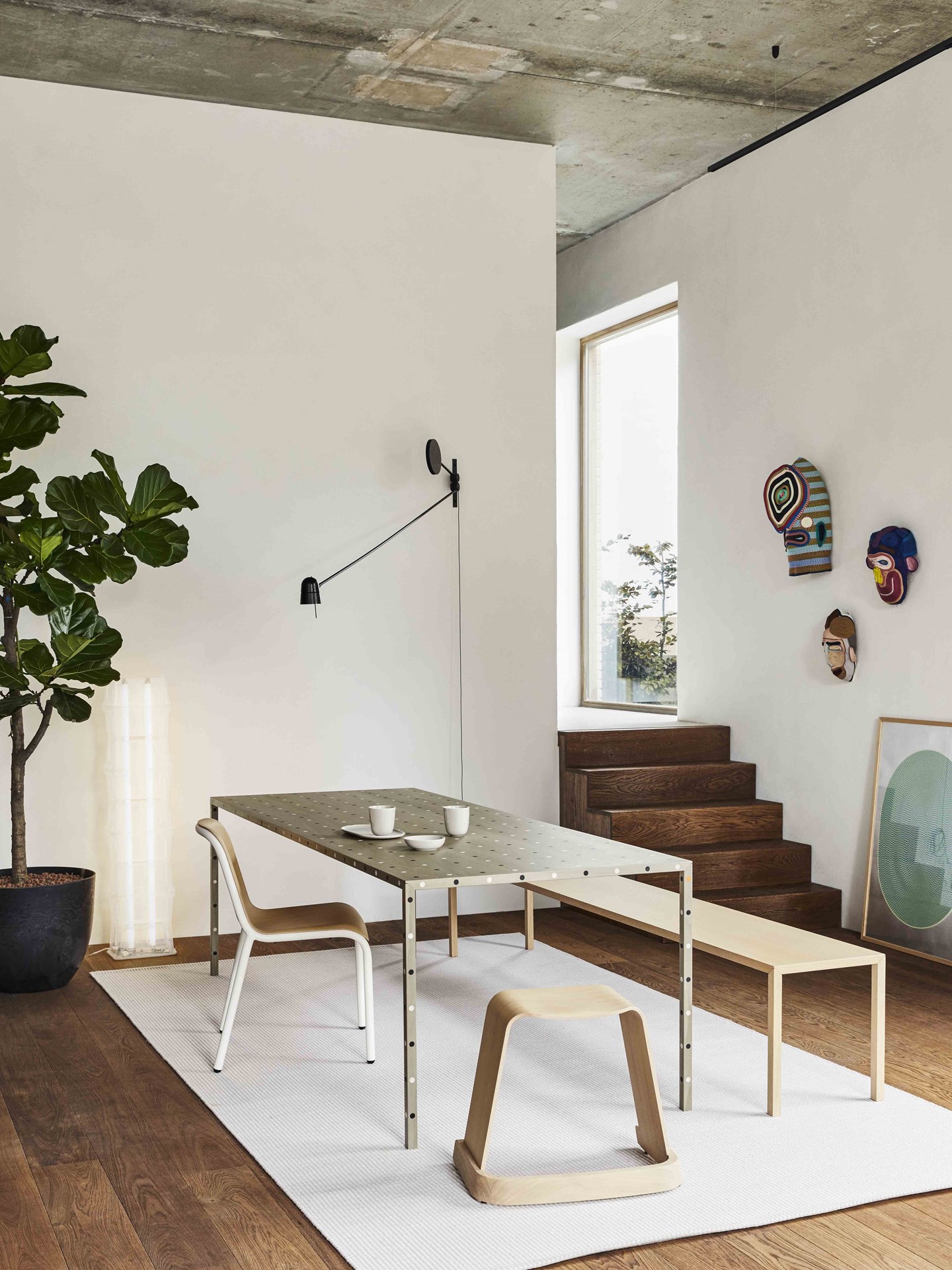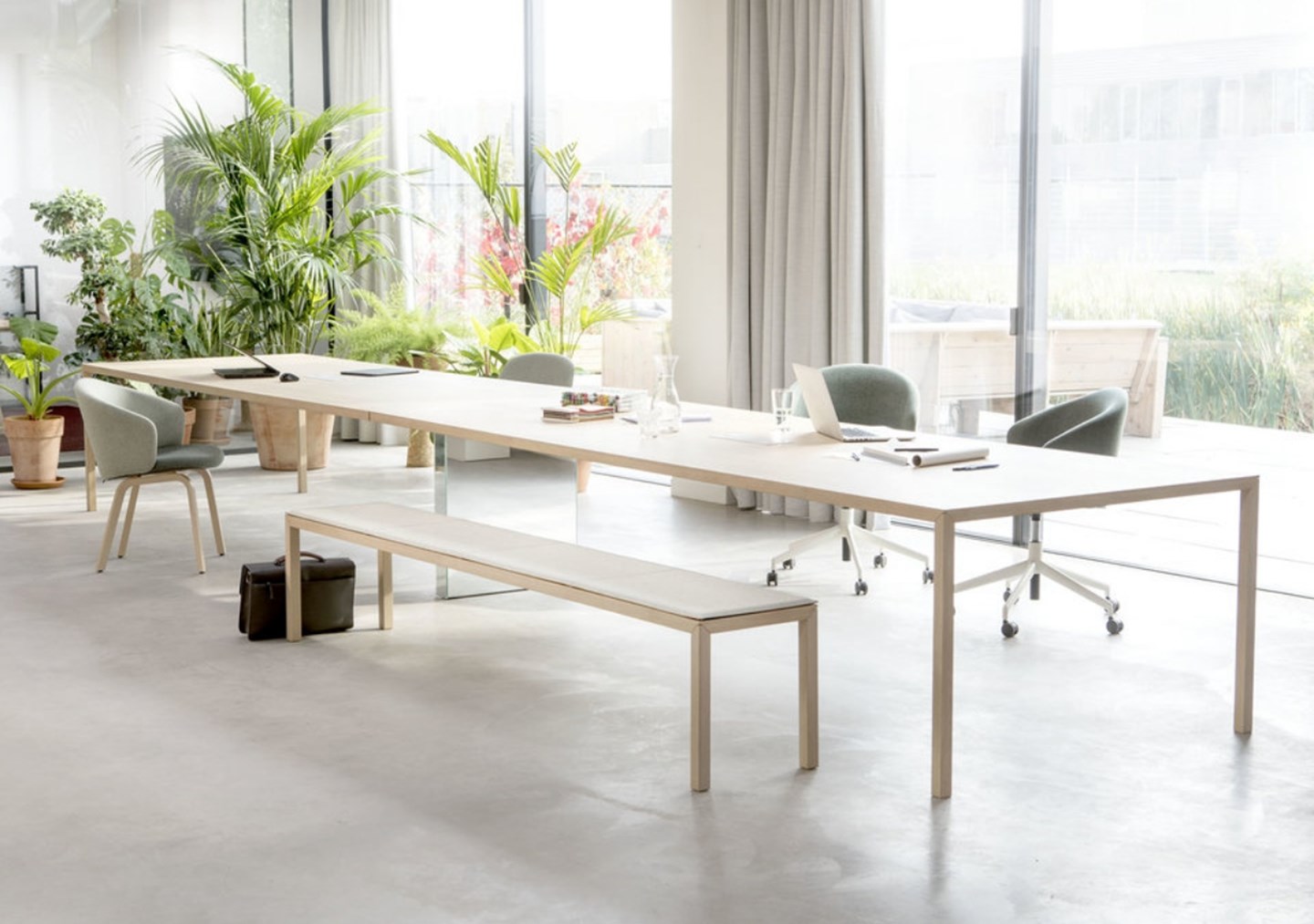 Ultimate length | Slim+ Connected, this Slim table pushes the boundaries of length with a mirrored column that becomes one with the room.
The ultimate length of the design table is achieved with the Slim+ Connected. We recently developed a technique for connecting the Slim+ tables. This makes it possible to produce this super-Slim table in enormous lengths.
The Slim+ Connected makes the impossible even more impossible. A length of 720cm can be applied with the use of a mirrored stainless steel column, whereby the column created the illusion to becomes one with the room.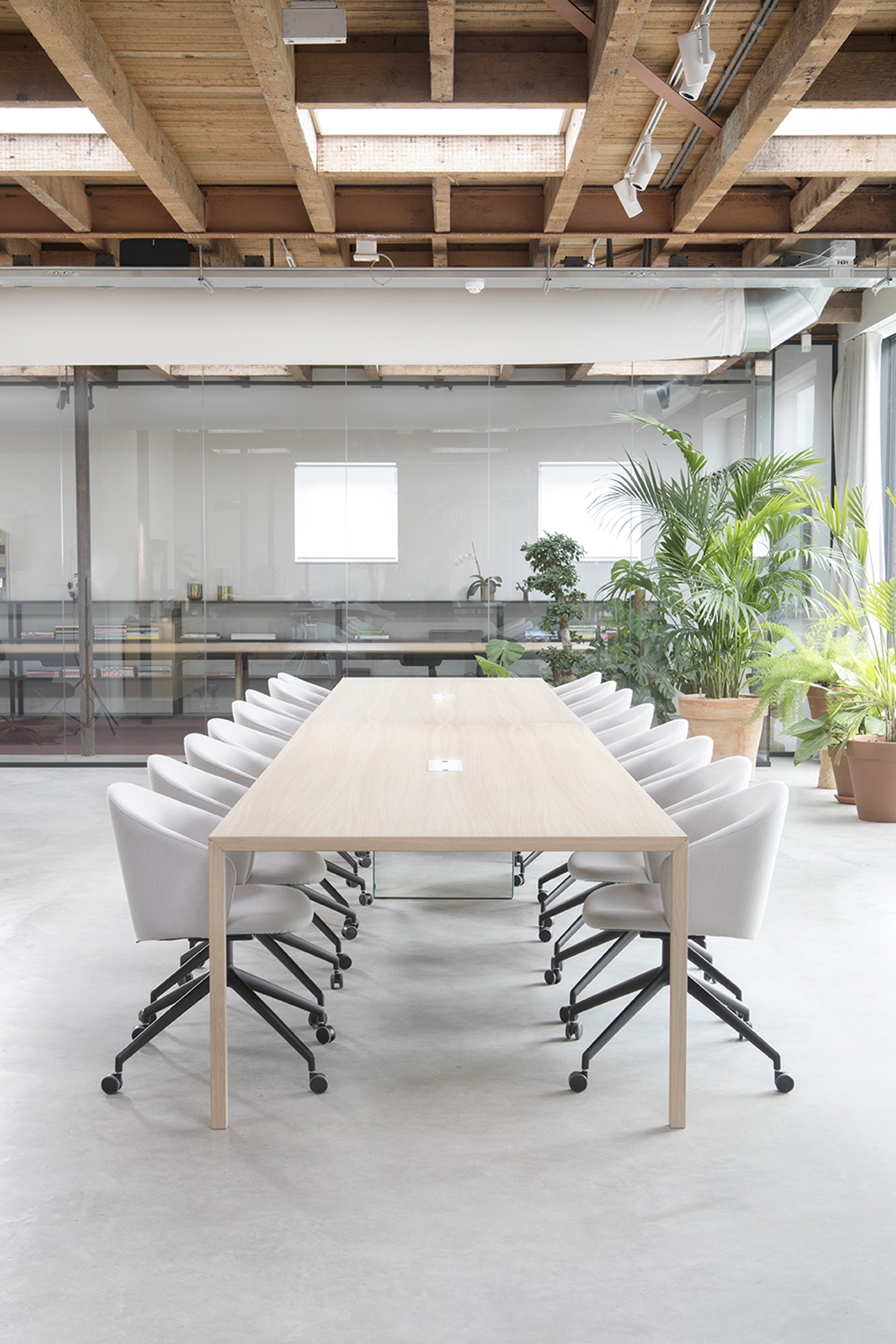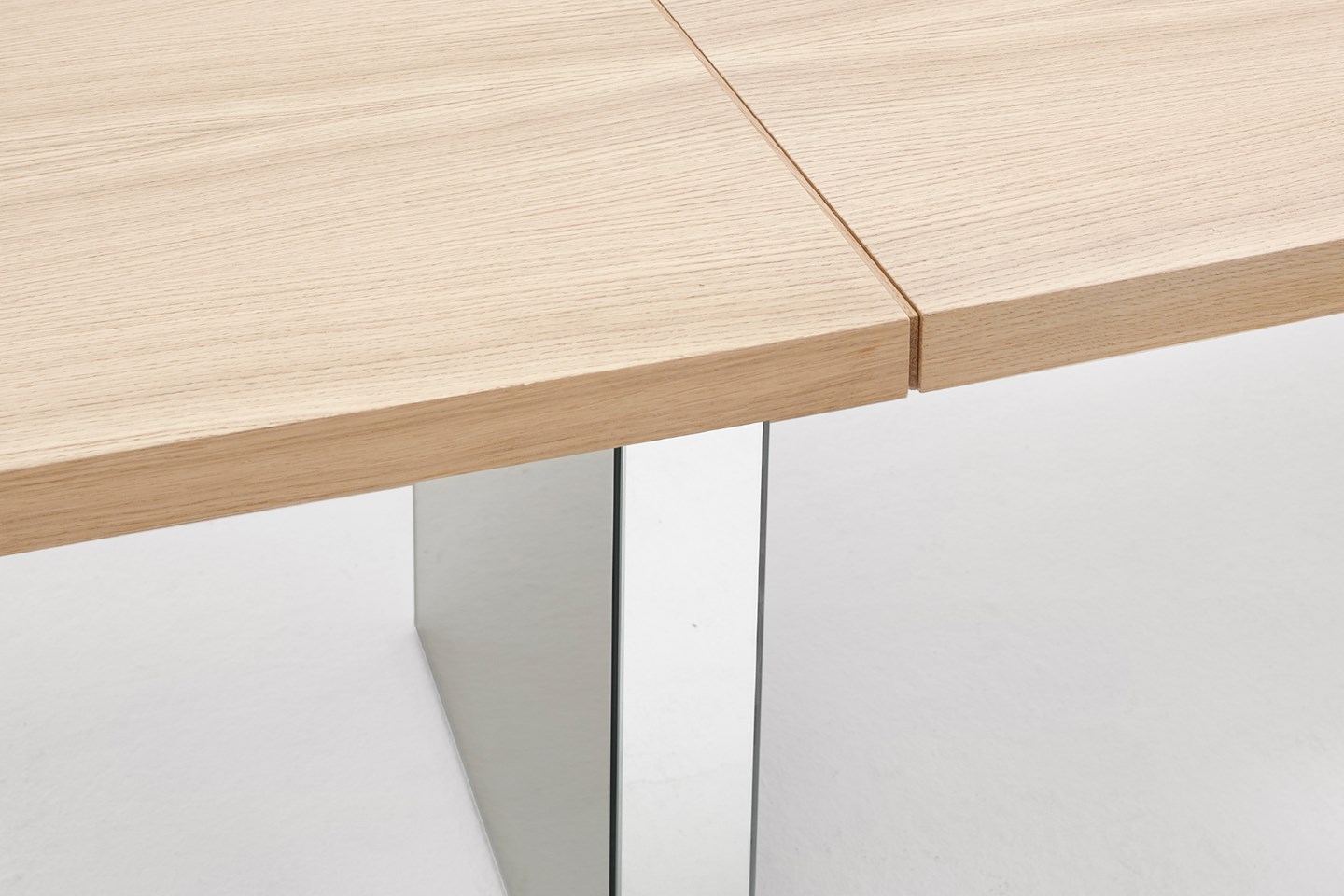 Slim table tailored | Put together your own design table that meets your needs and wishes.
Every person has different wishes and needs, and every space requires a different interpretation. It is therefore only logical that we adapt our tables to these needs with the desired dimensions and finish.
In this way, we create tables that are suitable for every situation: whether it is a table for a family with children or a table with all the conveniences for hours of meetings. Our tables are crafted with great care and quality so that you can enjoy them for years to come.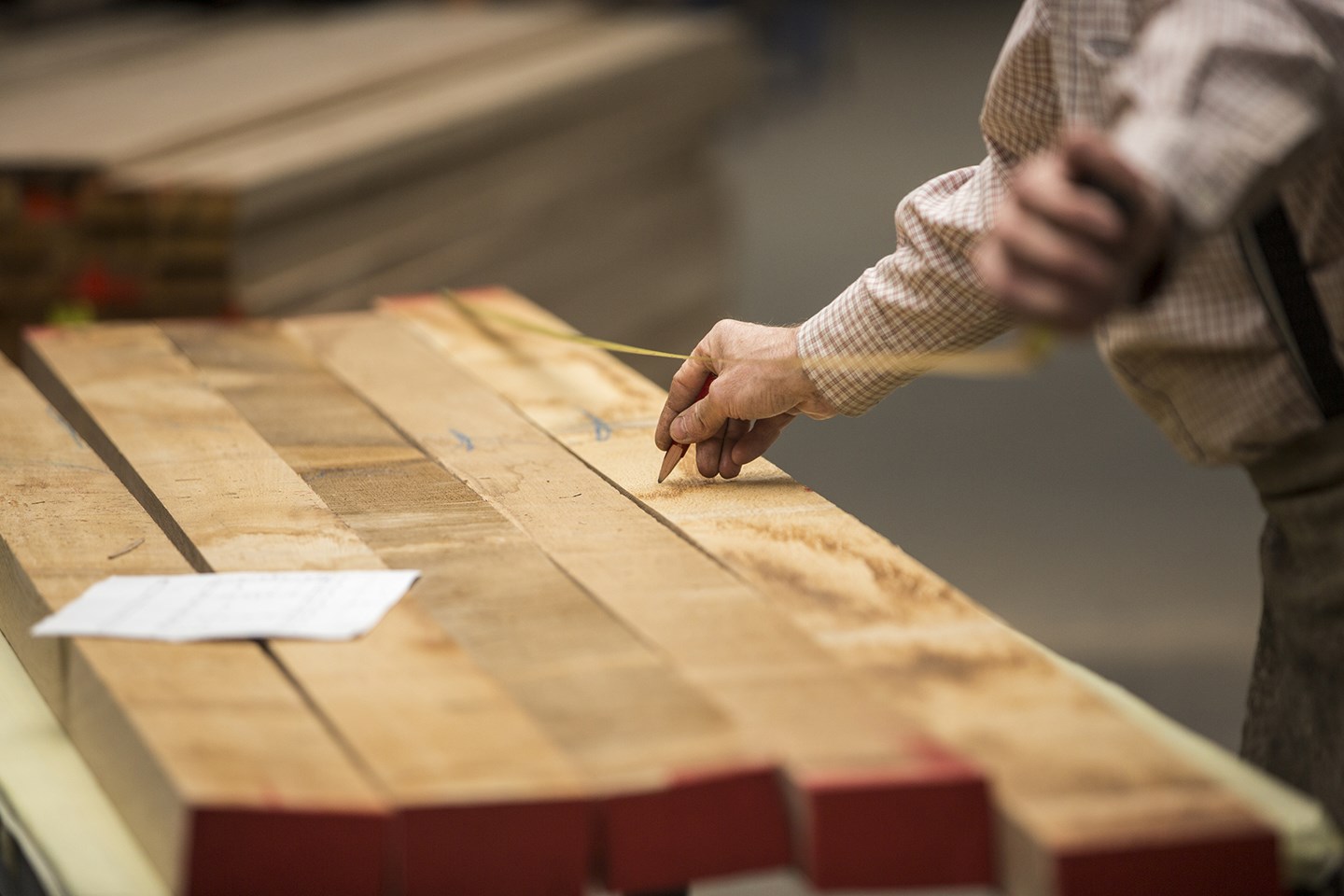 Electrification solutions | To make the table as flexible as our lifestyle.
With the table as a dynamic living and working space, this also calls for smart applications and accessories to support it. The CM06 & CM07 cable management and electrification solutions are offered especially for the Slim tables, and can be assembled as required. Designer Jonathan Prestwich devised the Cable Net and Cable Sock for Arco. These handy accessories offer a low-tech solution for your high-tech devices.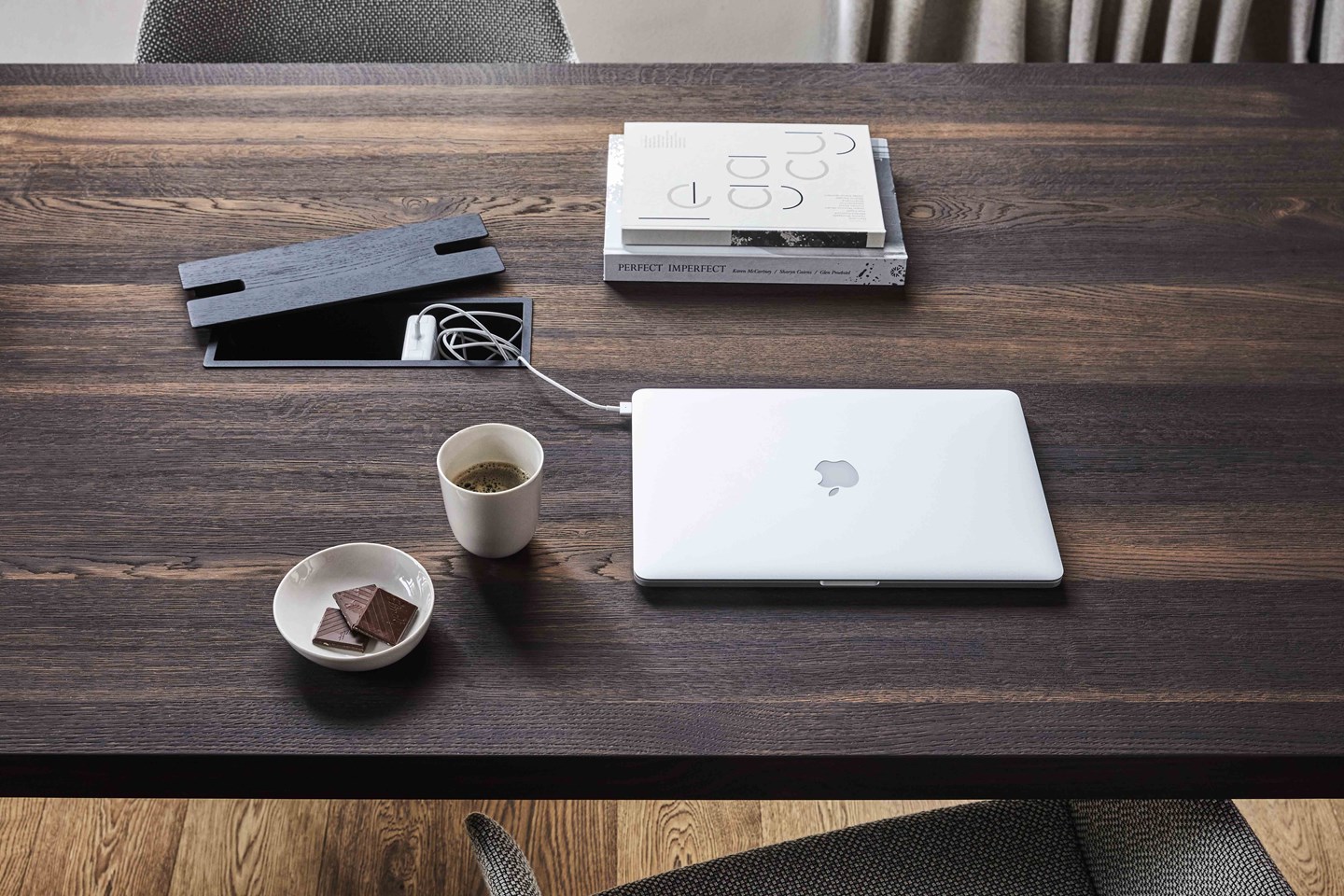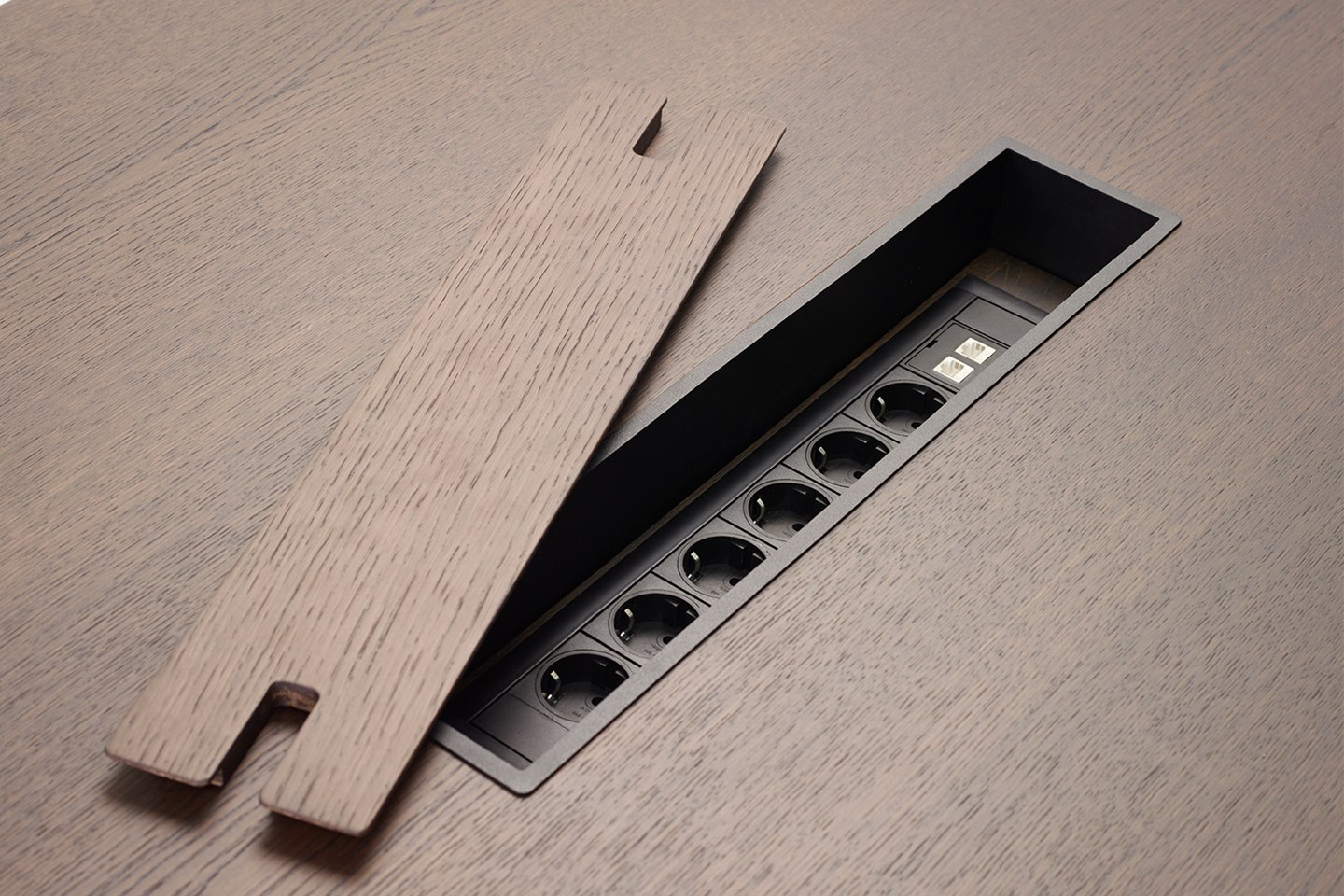 Slim Dot Dot Dot| The ultimate new craftsmanship applied to the Jubilee Design by Bertjan Pot.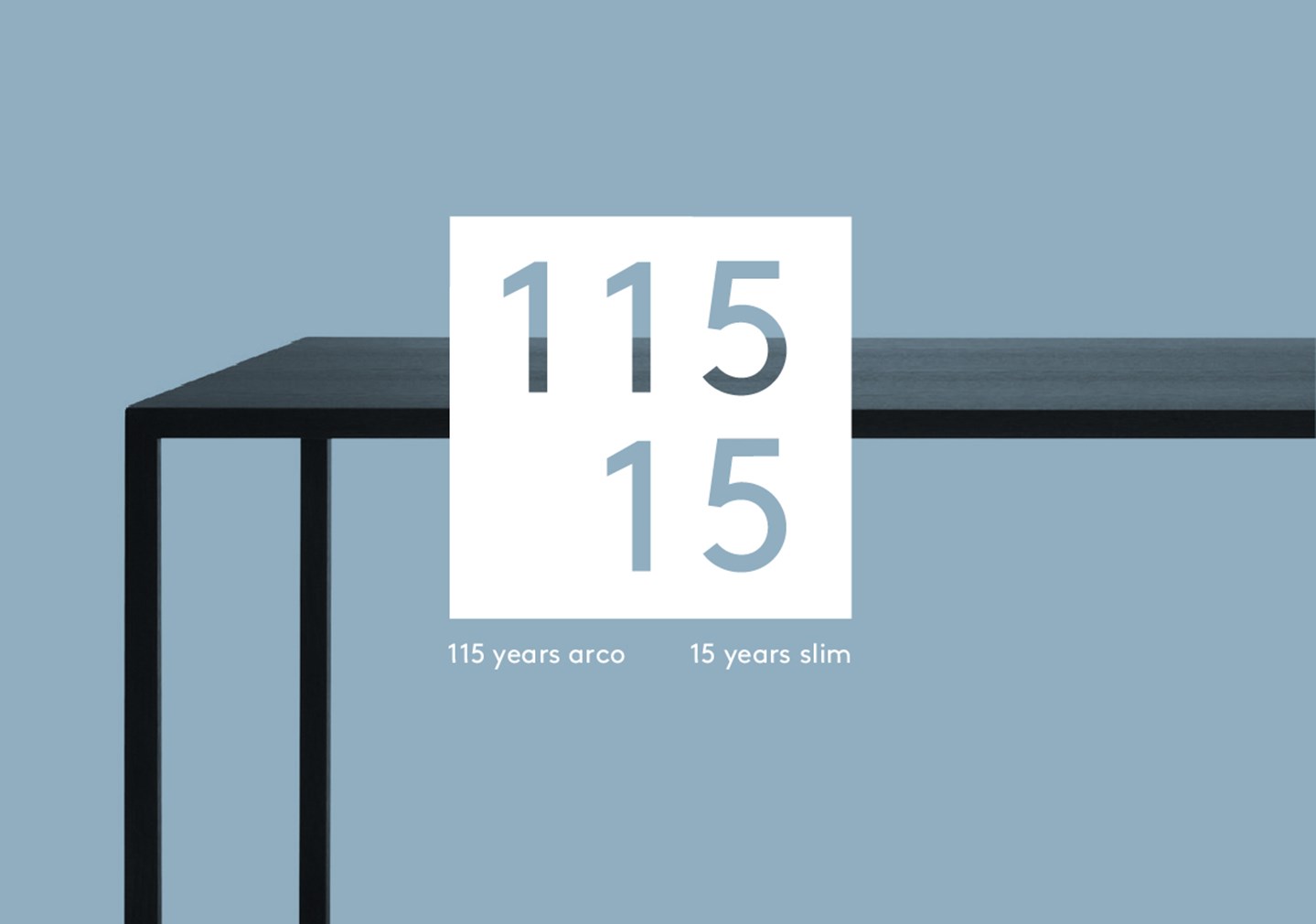 Slim table is celebrating its 15 year anniversary. Especially for this occasion designer Bertjan Pot has given this particularly minimalistic 'limited edition' table a new look.
For the new design Slim Dot Dot Dot, Bertjan has chosen for a dot pattern which is applied with veneer pieces through the old 'marquetry' technique. As a wood specialist we like to try out new technologies and keep developing ourselves to come to innovative new designs like the Slim Dot Dot Dot.
The table comes in Grey and Green and is available in 3 different sizes. In both versions, the coloured dots are cut out with a laser machine and then placed back into the Grey or Green veneer by hand. Hereby traditional craftsmanship and new craftsmanship come together in an innovative way.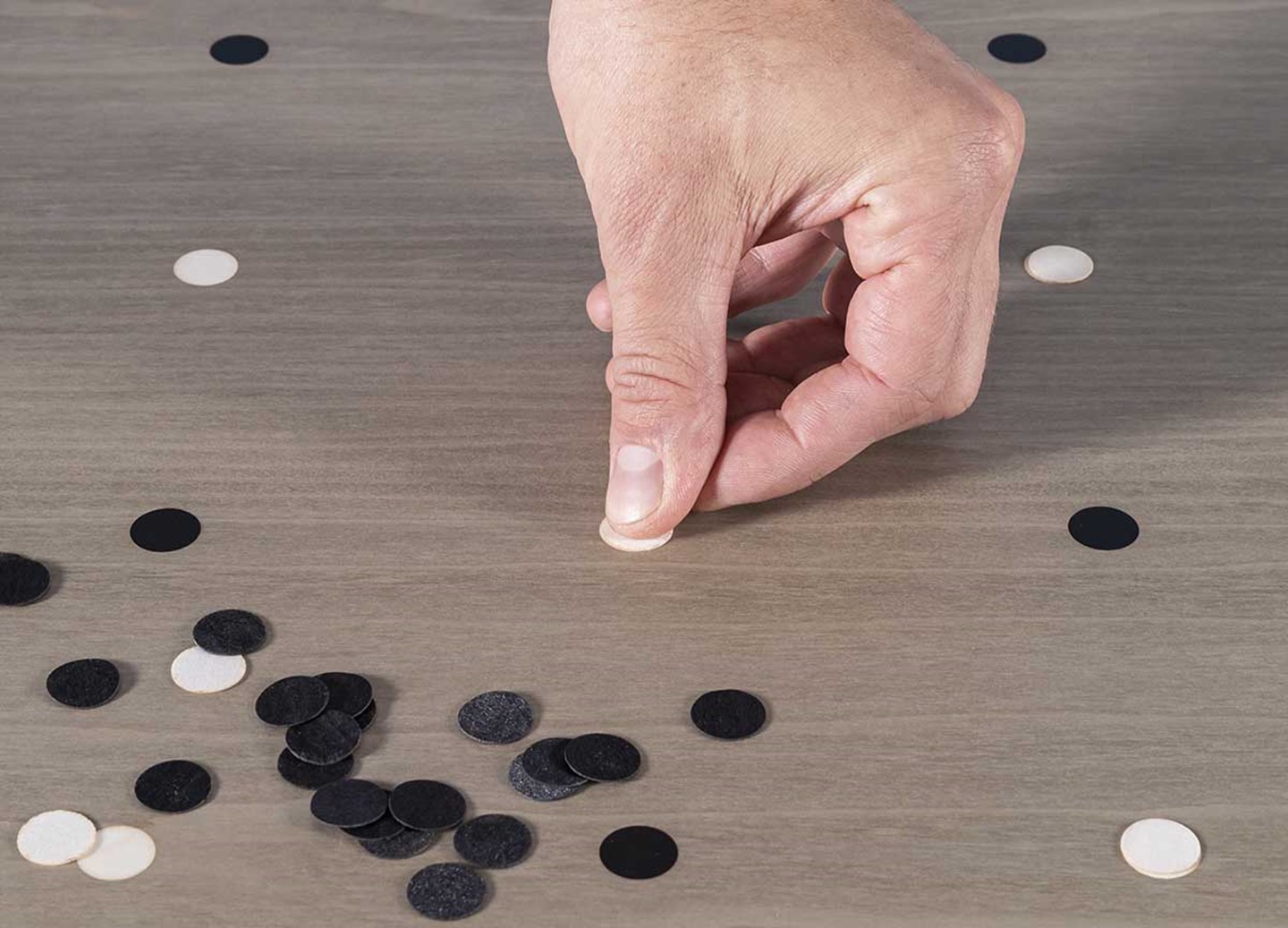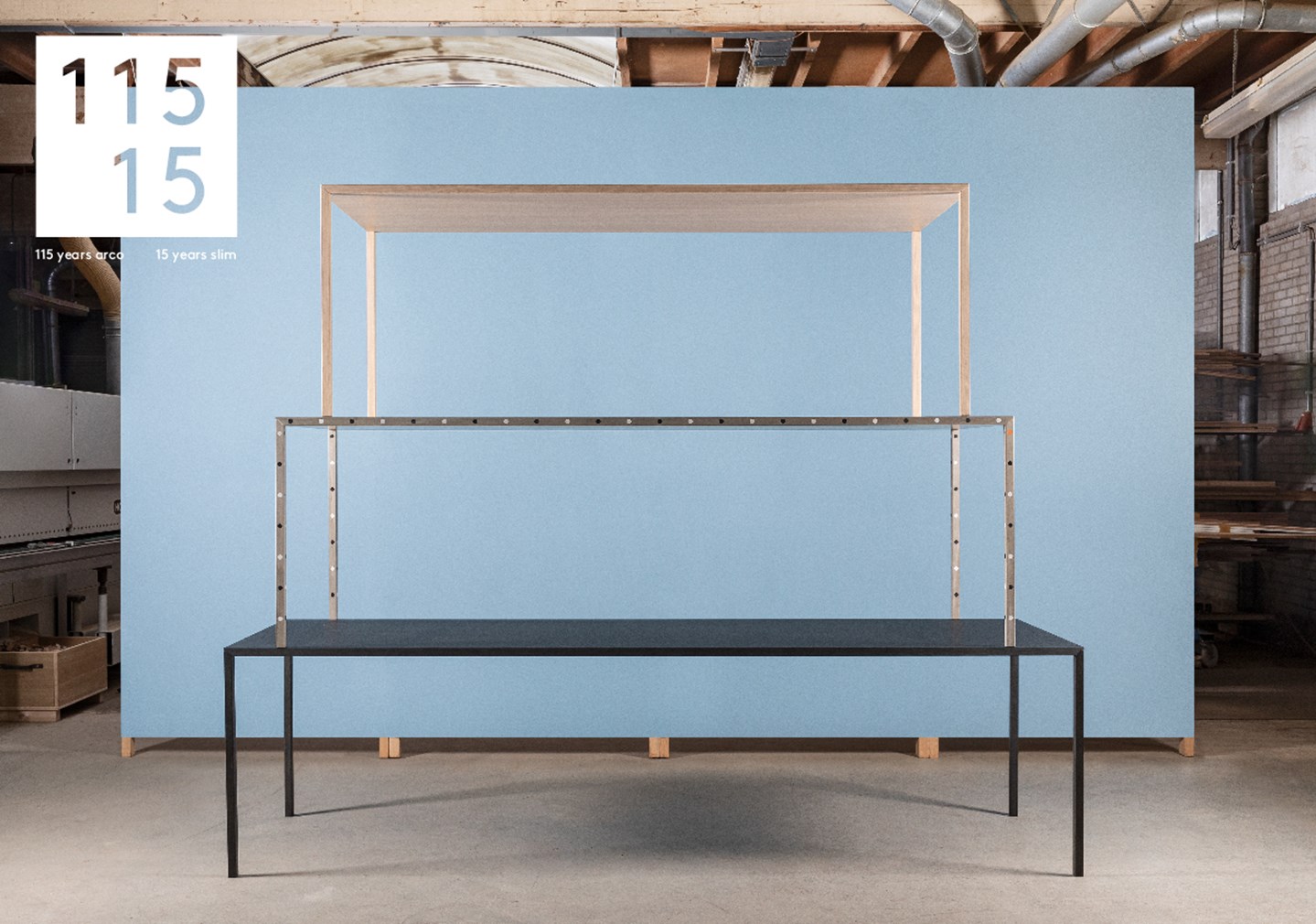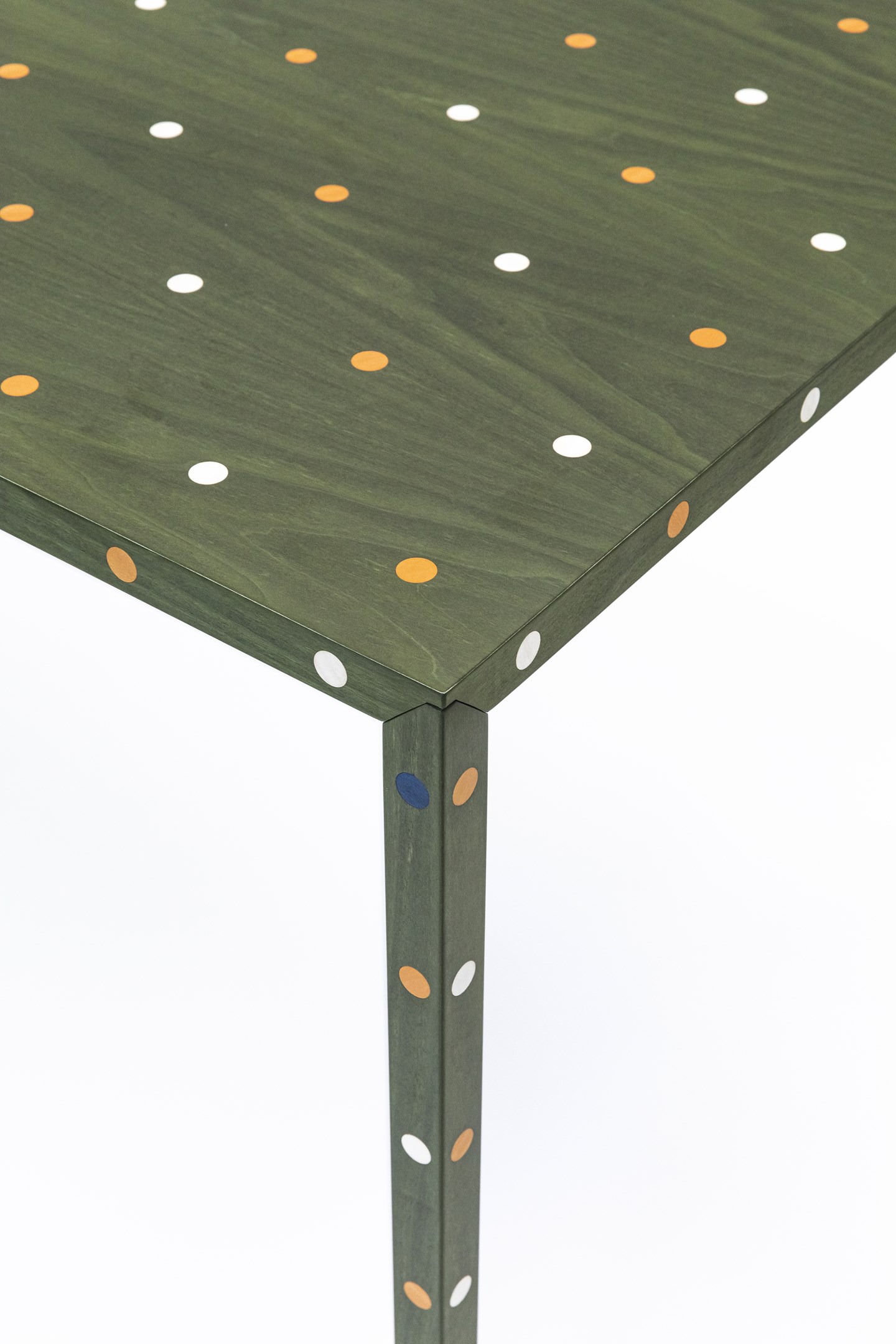 Limited edition | Slim Dot Dot Dot, a limited edition of 25 pieces, a true work of art.
The Slim Dot Dot is a true work of art. The unique object has a limited edition of 25 pieces. Each table comes with a number label and the owner receives a certificate signed by Bertjan Pot.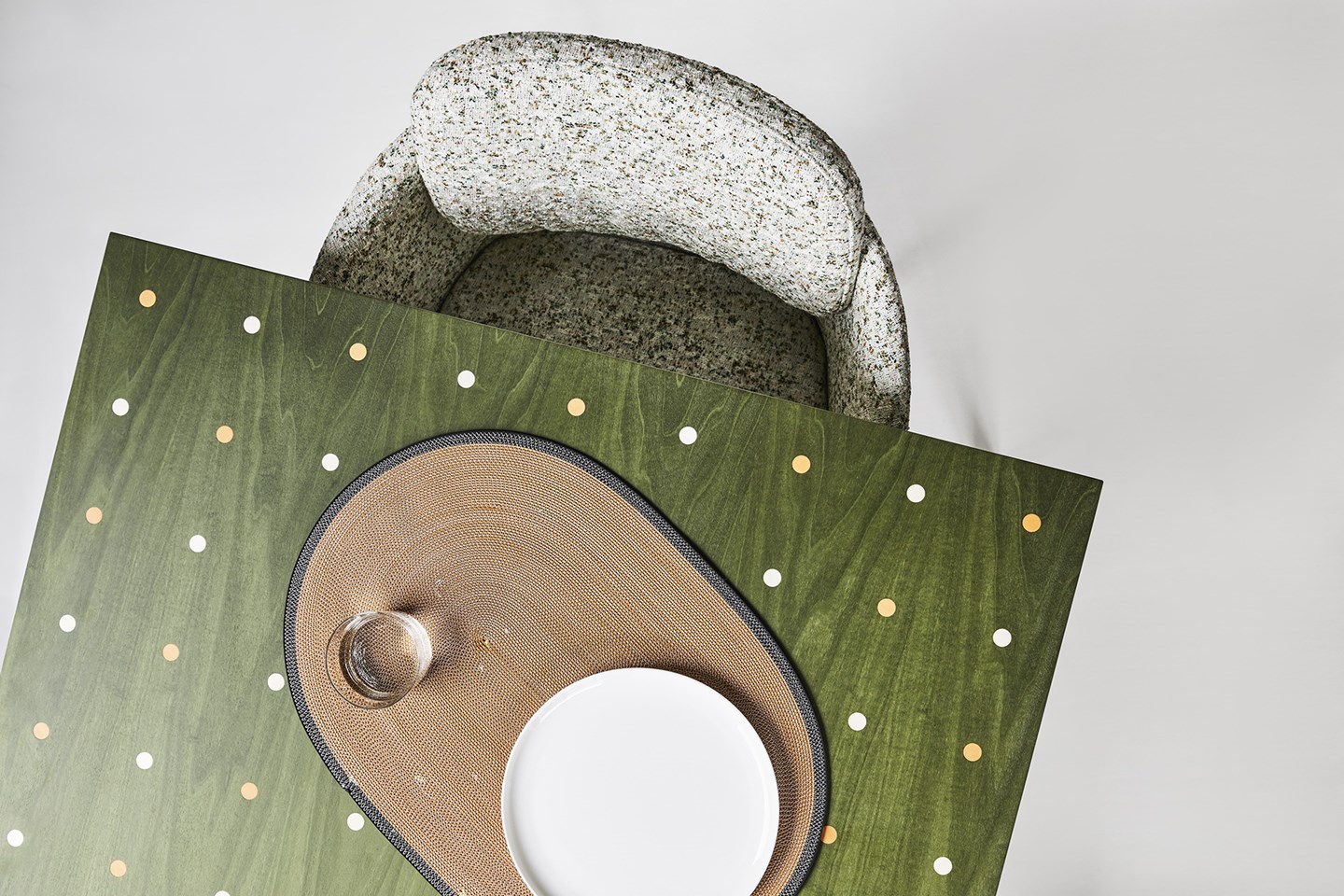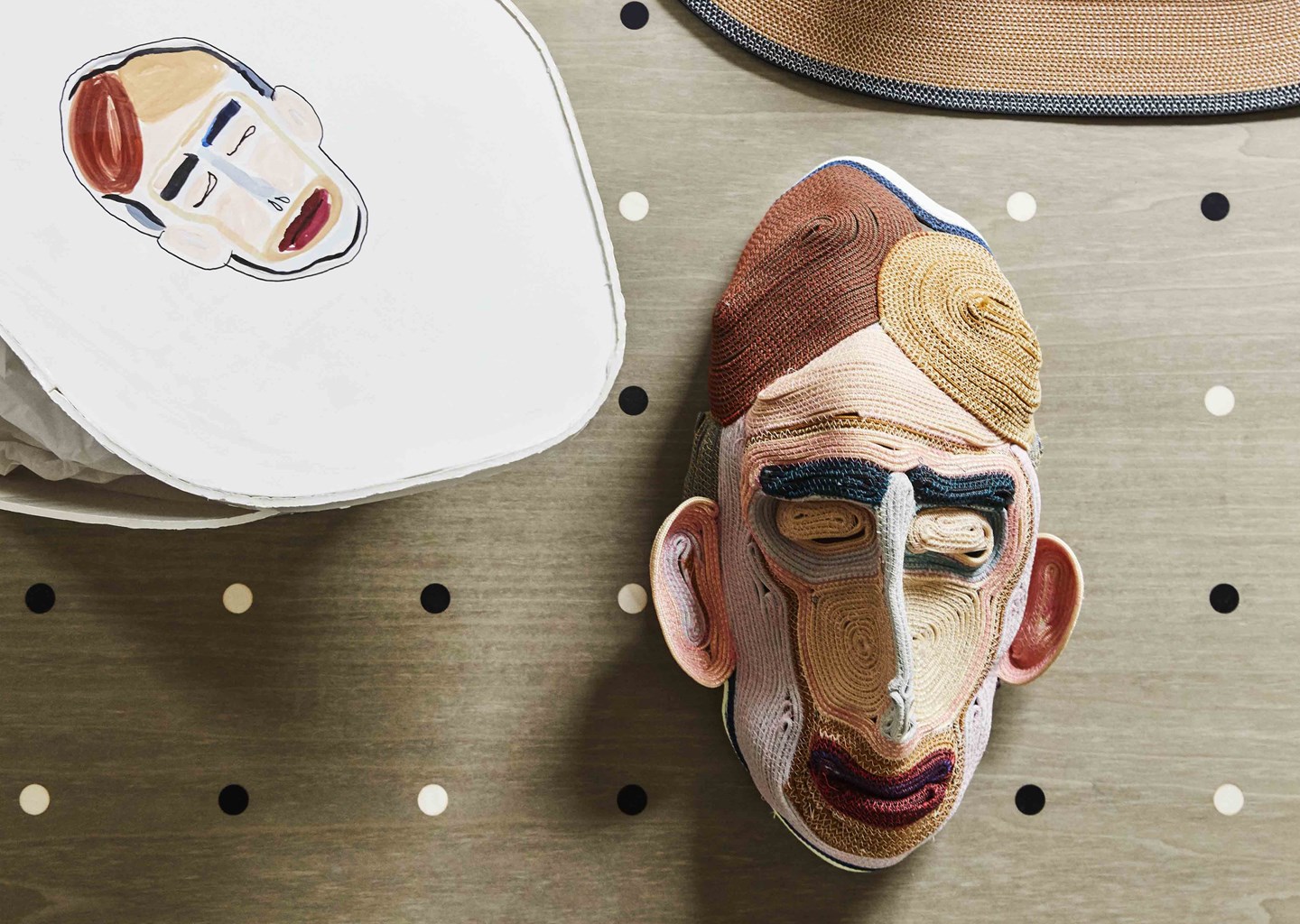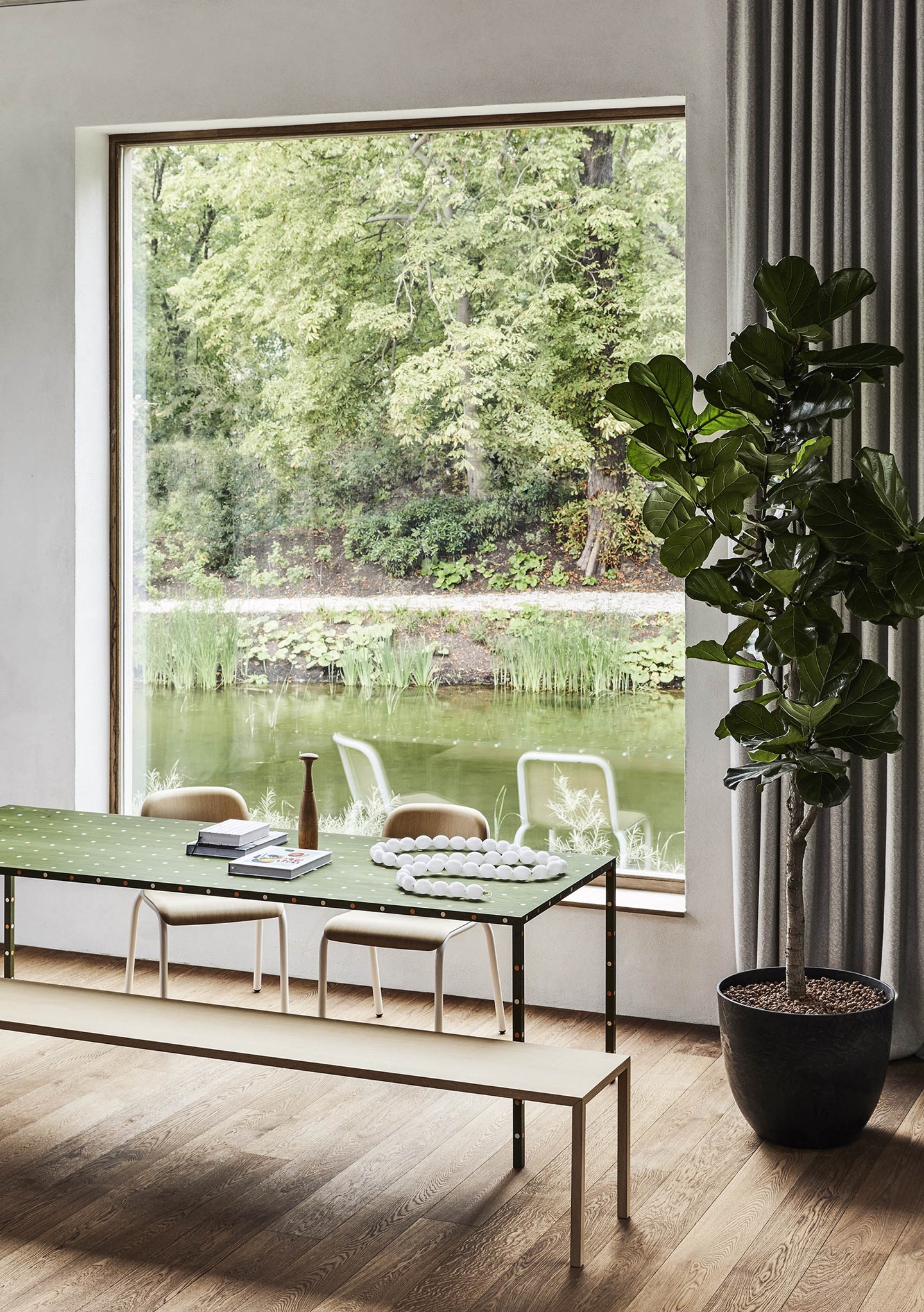 Home & Work | Slim collection lends itself to both intimate home settings and larger meeting & conference rooms.
With this extensive Slim family, the collection can be used in both the living and working environment. Serving as a thin dining table for an intimate family setting to an ultra long meeting table. Find below a beautiful selection of Slim variantions, applied in projects all over the world. Each version and composition fits its environment.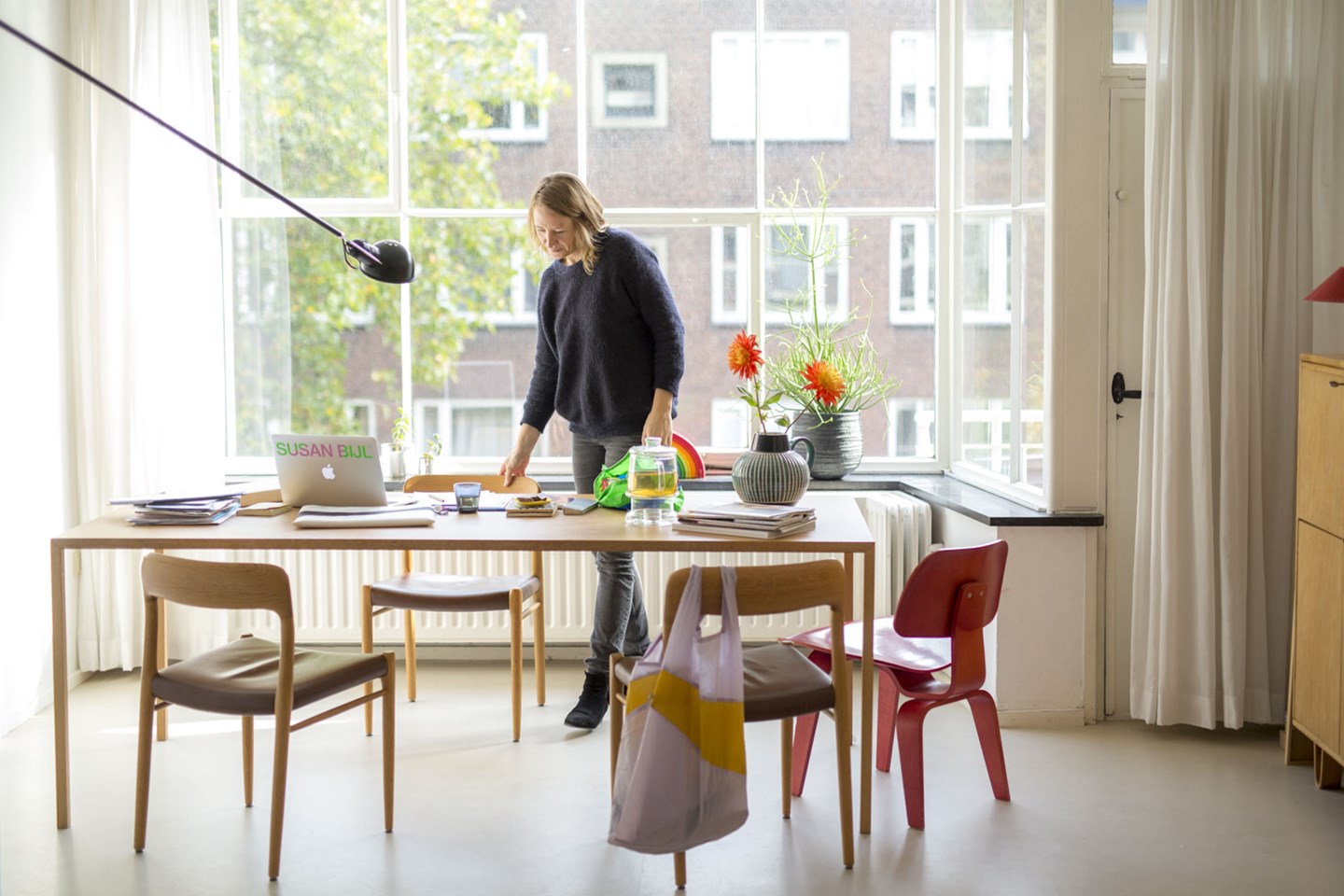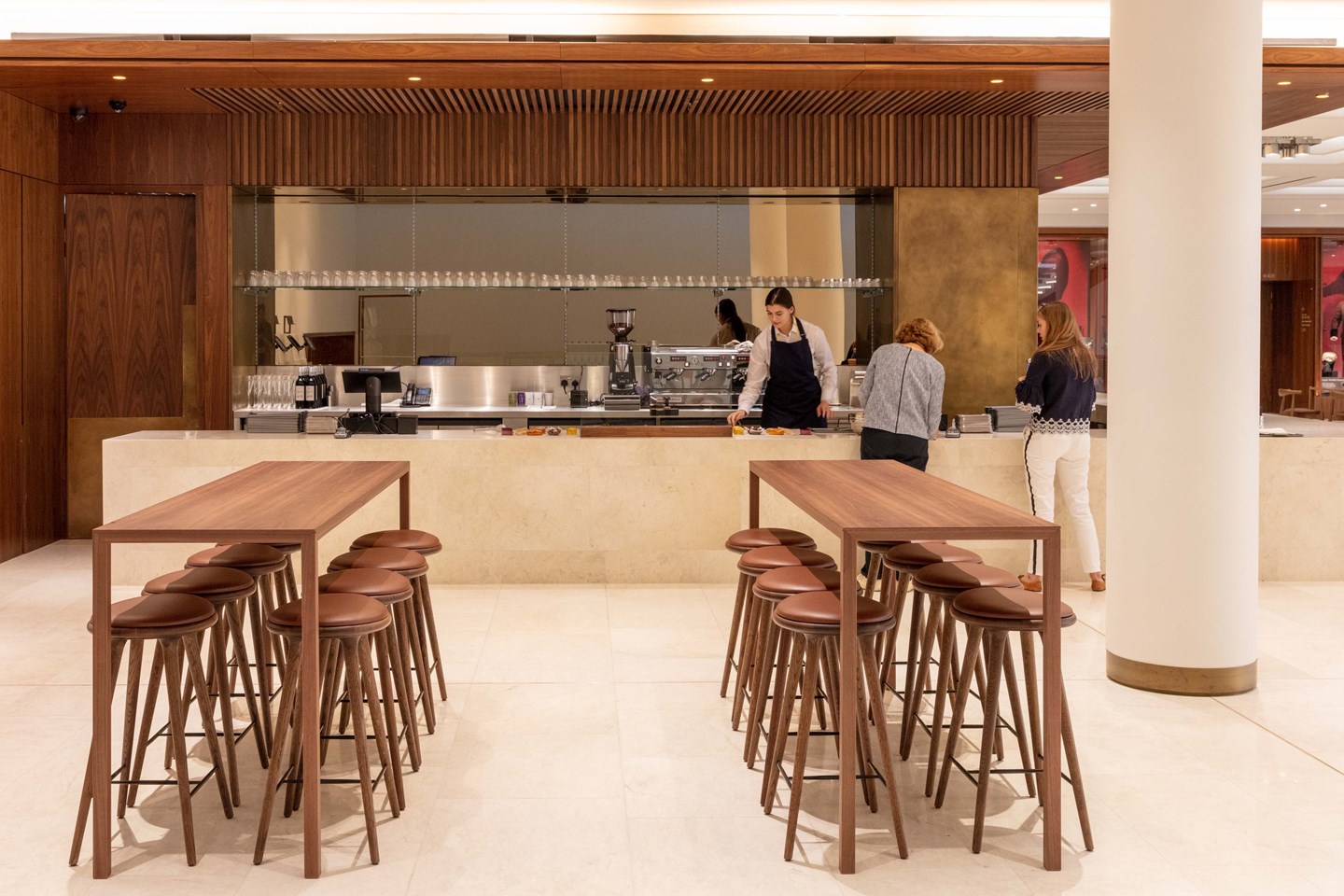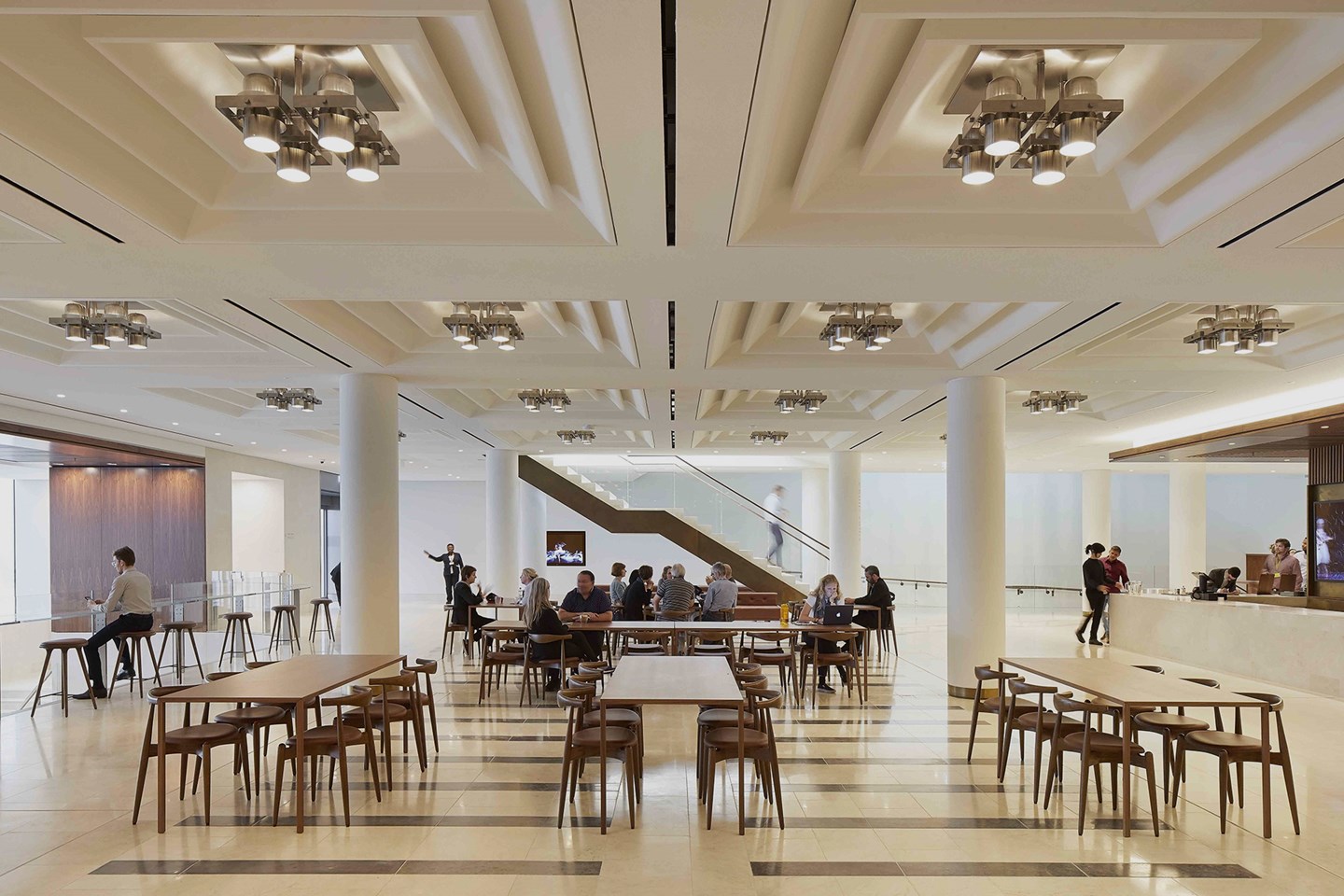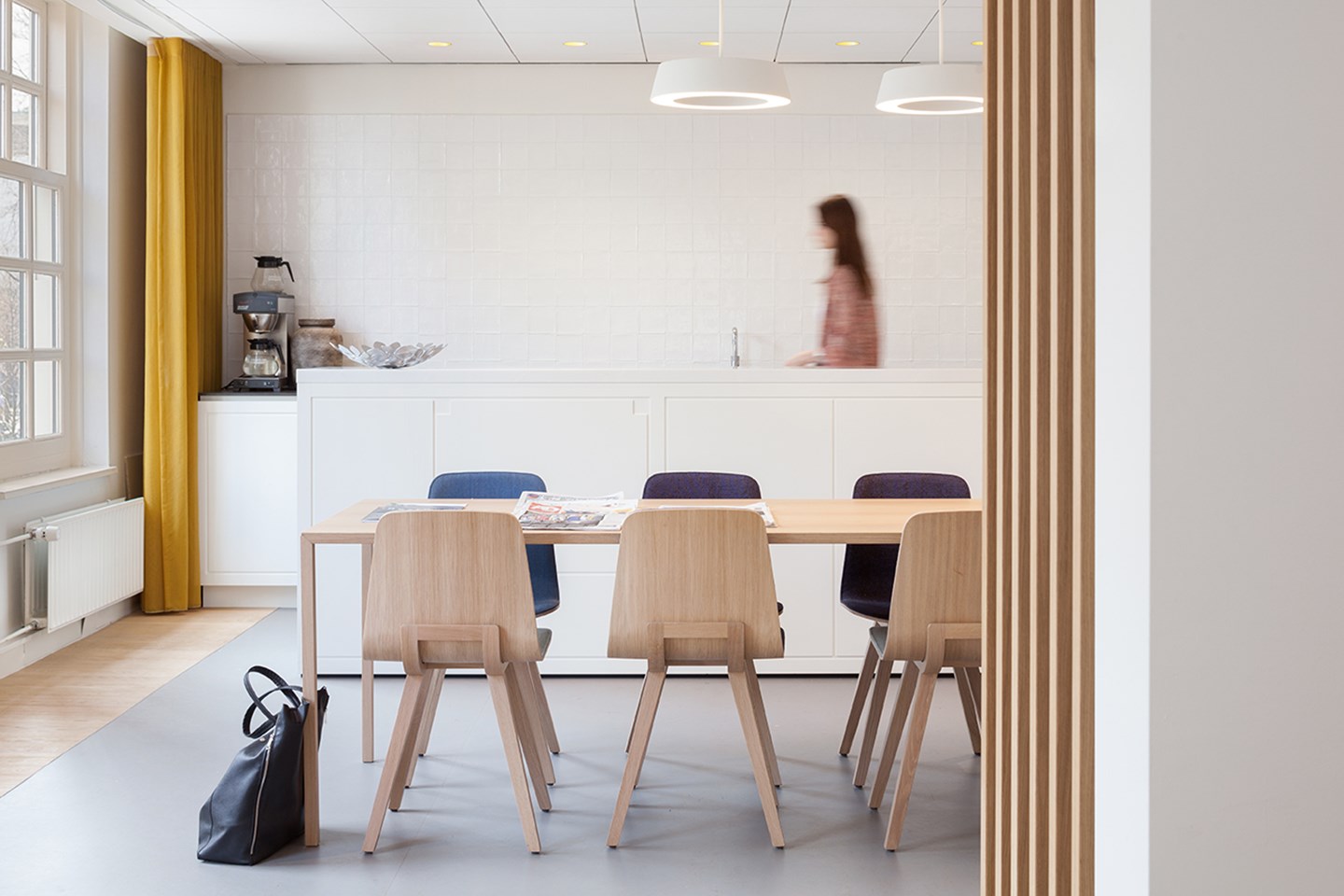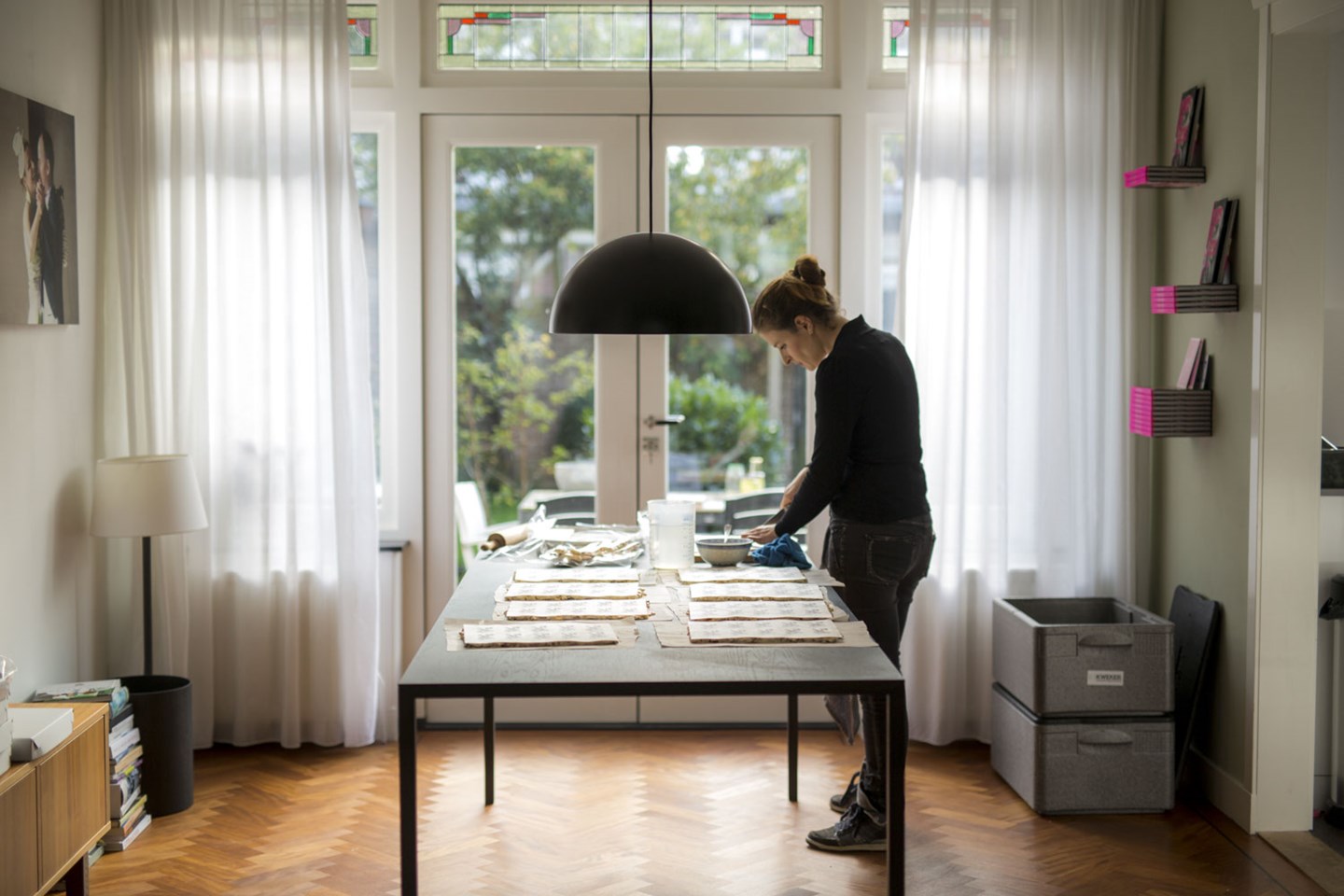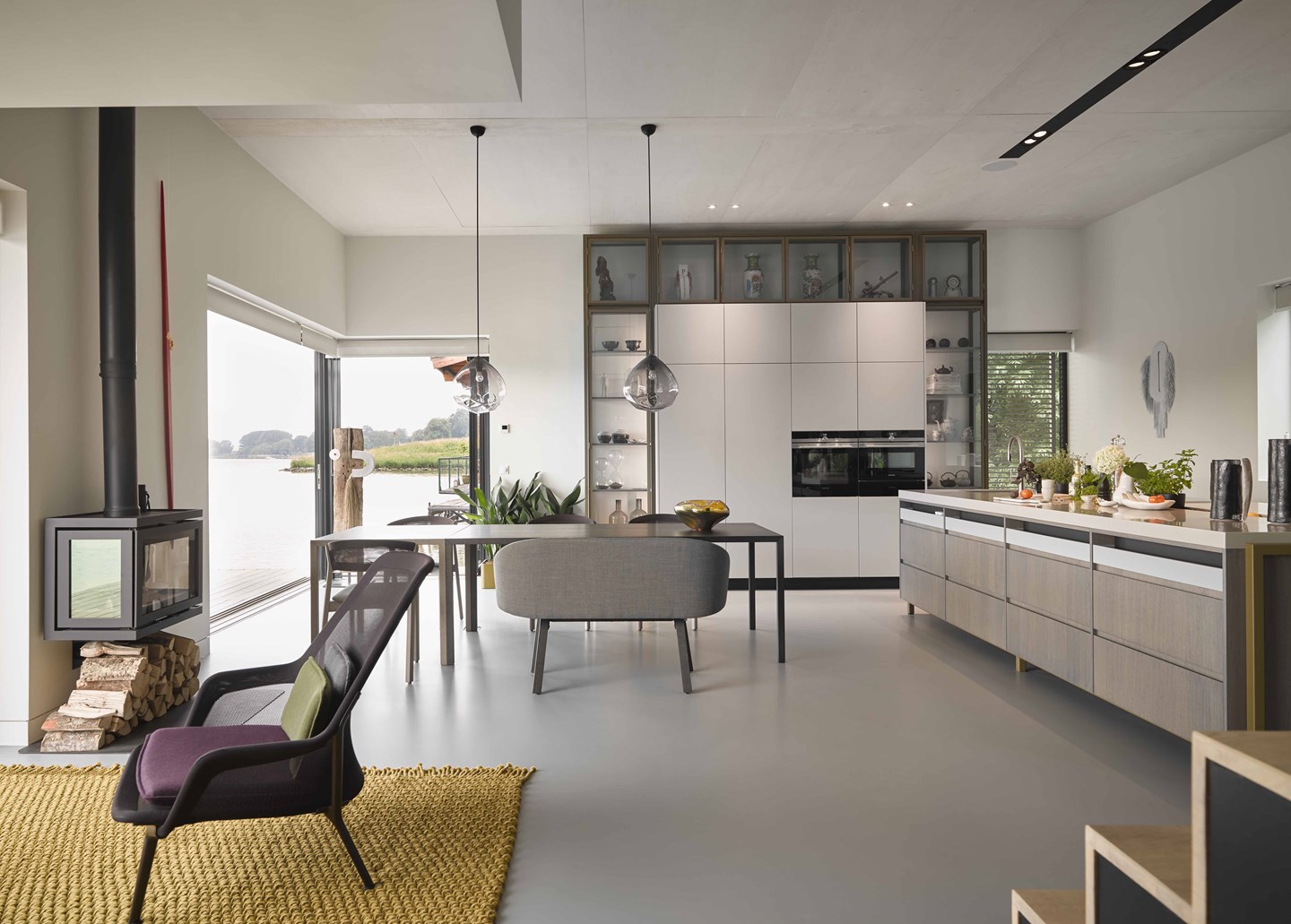 Tafelen @ Creative Chef - Anne Fleur Sanders - where the thin Slim table is central to her life. 
"Anne Fleur, a creative chef and also owner of the Slim table, was born with an above-average sensitivity to taste. She is very experienced in putting into words the experience of smell, texture and flavour. She is a gourmet and taste expert and also gives advice and guidance as a food consultant. 
The development of innovative and surprising recipes comes easily to her. These contemporary recipes are regularly published in magazines and online. Sustainability and innovation are of paramount importance. Anne Fleur is proud and happy to contribute to a healthy and tasteful future for everyone.