Arco
Extendable tables
Our homes and habits are changing. Where a house used to have separate spaces; a living room, dining room and kitchen, it is now increasingly an open space with the 'living table' as the central meeting place. A dynamic place that is used in different ways every time. To eat, talk, read, work and relax. Because the table occupies such a central place, it is important that it is spacious and offers flexibility to adjust to the desired company, so that everyone can have a seat.
If you are not always in need of a large table, an extendable table can offer the flexibleness to adjust to your situation. This way you have - when necessary - the convenience of a large table, and you can slide it back in when you are with a smaller group.
Shift
Balance
Spazio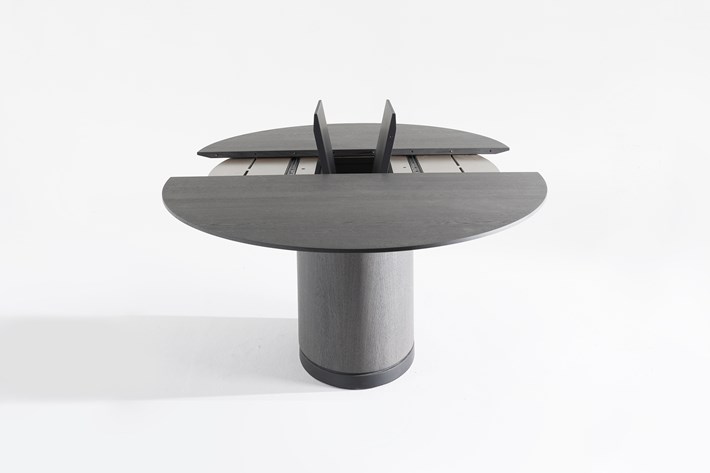 Extend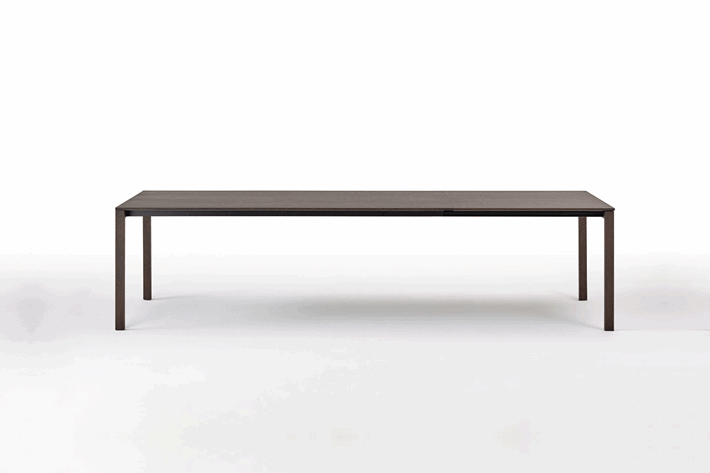 Extendable tables for the home
At times there is a need for a cozy small table, while at other times a large family table is desired. For example, you often get visitors, but you don't always want a large dining table in your living space. Arco's extendable tables offer a solution for situations with limited space.
When your children have already flown out, but still regularly come over to have for dinner. When friends and family come over for a fun night of playing games. Just extend your table with some extra chairs and there is room for everyone.
Extendable tables for the office
Office spaces can no longer be typified as an external workplace in this day and age. The workplace is no longer just the workplace at the company itself, but can also be the home workplace or a flex desk. This involves new needs, such as an extra extendable table top for more workspace. For these different needs and flexible circumstances, the extendable or folding table can offer a solution for small to large groups and can adapt to a home from dining table to extendable work table.
Get to know Arco's wide range of chairs for the living and working environment
Dimensions
Arco's extendable tables Shift, Balance and Spazio come in different versions that adapt to the space and the number of people (number of people based on seat width):
Rectangular extendable table
Table 6 to 10 people | Dimensions 180 cm wide (extended 280 cm)
Table 8 to 12 people | Dimensions 210 cm wide (extended 310 cm)
Table 10 to 14 people | Dimensions 240 cm (extended 340 cm)
Round extendable table
Table 4 to 9 persons | Dimension Ø120 (extended Ø179)
Table 5 to 10 people | Dimension Ø130 (extended Ø189)
Oval extendable table
Table 4 to 6 persons | Dimension Ø160 (extended Ø219)
Table 4 to 8 people | Dimension Ø190 (extended Ø249)
Table 6 to 8 people | Dimension Ø210 (extended Ø269)
Table 8 to 10 people | Dimension Ø240 (extendedØ299)
Extendable table designs
Arco's extendable tables and/or fold-out or collapsible tables come in all shapes and sizes:
Round extendable dining tables
Oval extendable tables
Rectangular extendable tables
Extendable dining tables
Materials & colors
Arco is known for the use of multiple materials and colours:
Oak tables
Nut tables
Solid wood table
Veneer wood table
Tables made of sustainable materials
Red extendable table
Blue extendable table
Green extendable table
Black extendable table (33 oak black / 22 oak carbon)
White extendable table (33 oak white)
View all our materials and colors


Product ECO Passports
An eco-passport has been compiled for each table in our collection, which provides a clear overview of the material composition with weight percentages. You can find these under the heading 'downloads' on all product pages. 
Learn more about the origin of materials


Sustainability certifications
Arco uses sustainable materials. The sustainability logos and certificates that apply to the product are displayed with each product. We only work with PEFC & FSC® certified wood and bear the STIP quality mark.
Learn more about sustainable furniture
Get in touch about our extendable tables
You can always reach us for any questions and specific information on our materials and colors of a specific product.
Call us on +31 (0)543 546 570 (Monday to Friday 10:00 - 17:00)
Mail info@arco.nl 
Visit one of our showrooms or dealers worldwide 
Send us a message via the contact page


View our complete collection
Take a quick look at our collection with sturdy and durable tables. In addition to extendable tables, we have a large collection of oval dining tables, round dining tables or rectangular dining tables and many more to fit your needs.
We live to last
Arco & sustainability
Read more
Where to buy?
There are Arco dealers all over the world
Find a store