More and more persons are rightly asking for the origin of products and the composition of the materials of a product. As we wish to be as transparent as possible on these matters, each of our products is provided with a "product eco passport". This is a clear overview of the product, with the composition of the materials and their percentages by weight. This overview can be found on every product page under the tab "Eco passport". Each product passport displays the following Arco sustainability logos and certificates that apply to the specific product.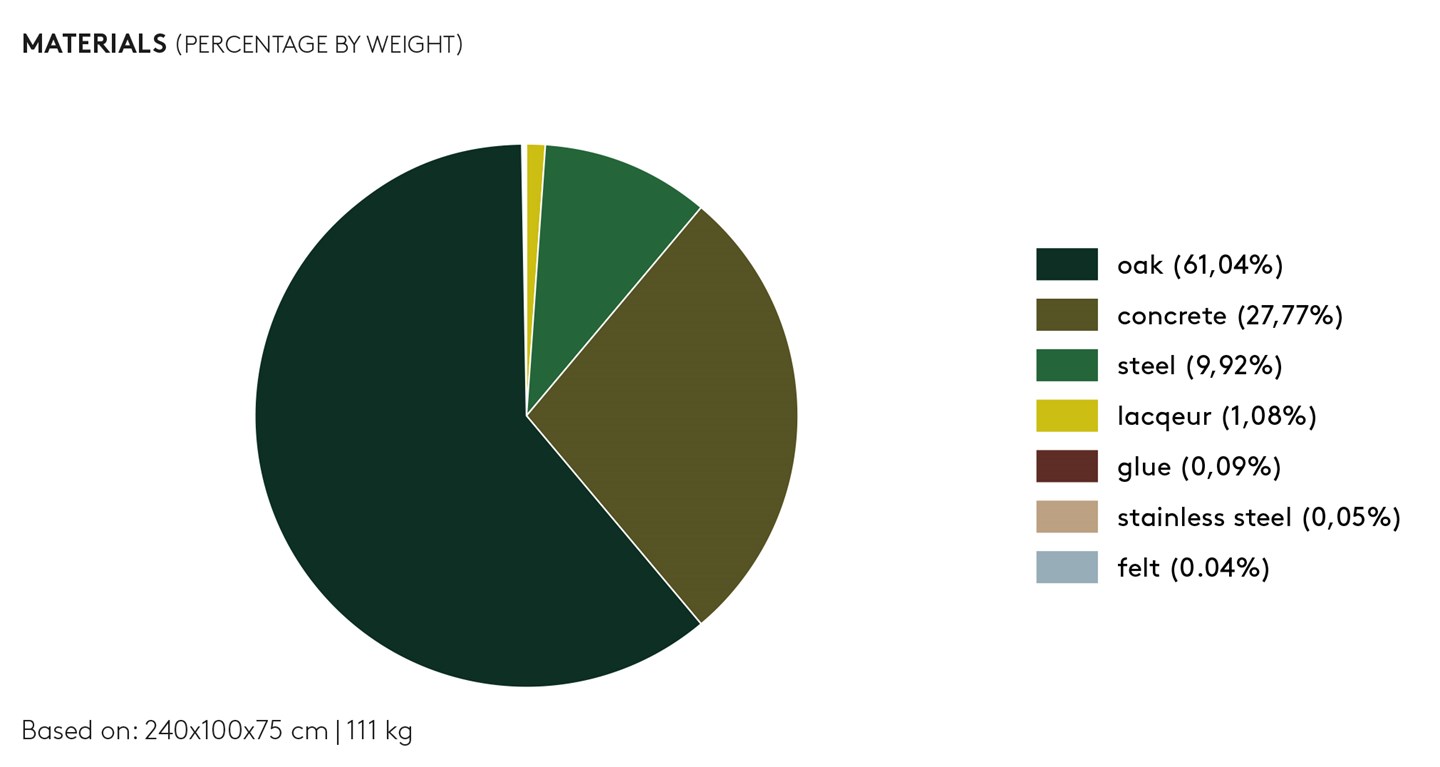 PEFC is an international quality mark for wood (products) and paper. PEFC stands for Program for Endorsement of Forest Certification. It is supported by governments, companies and regional organizations. Wood with the PEFC label comes from sustainably and socially managed forests.

STIP is a company quality mark that is objectively tested by independent experts. Over and over again. None of the other quality marks guarantees what STIP does: a STIP-company buys exclusively responsible produced wood (and sells that as well).

Repair. You can rely on our Arco dealers for the repair of your table. They will bring your table to our factory, where we will look after it. Your table will be brought back to you good as new.

Arco Local Wood. With the collection Local Wood we maintain the production chain as short as possible. The collection is produced, from the beginning to the end, by local parties: from raw materials and processing (sawing and drying) to production. All the wood for this collection comes from the immediate vicinity of our plant in Winterswijk: the Netherlands and West Germany. This saves a lot of kilometres and thus a lot of energy.

Made in Holland. We are committed to quality and craftsmanship. Our tables are therefore
produced by the best craftsmen in our own factory in the Netherlands. Also our cabinets,
small furniture and most of our chair collection is produced in the Netherlands. And we take
pride in it.

FSC® is the first international quality mark with strict requirements for sustainable and social forest management, supported by governments, companies and environmental organizations. 100% FSC® wood comes completely from responsible forests.

Refurbish. You can rely on our Arco dealers for the refurbishment of e.g. the Essenza table. They take your table to our factory, where we will take care of it. Afterwards it will be returned to you as new.

Recycle. We develop our products in such a way that they can be easily disassembled at the end of their service life. This will ensure that the various materials are highly reclycable.

Arco duramas. These table tops have a core of less scarce wood species, with a solid wooden layer glued at the top and bottom. Through this method scarce solid wood is efficiently dealt with, without compromising on quality.

Every person has different desires and needs and every situation needs a different approach. It is accordingly no more than logical that we adapt our tables in line with what you wish: to the appropriate length, width, height and with the desired finish. This way, we create tables suitable for every situation: for the interior of an office, a living room, a table suitable for a family with young children or a comfortable conference table. Our tables are traditional products of the highest quality made with great passion. In so doing we make sure that you can enjoy your own table for years on end.
Made in Germany. For a small part of our chair collection we avail ourselves of the knowledge of our neighbours just across the border. Germany is a country known for its high performance and quality