Arco
Benches
We also design and develop benches and sofas to match our tables. Our benches and sofas are made with an eye for detail, whereby we combine the latest technologies with artisan handcrafting. View the sofas and benches in Arco's collection.
All benches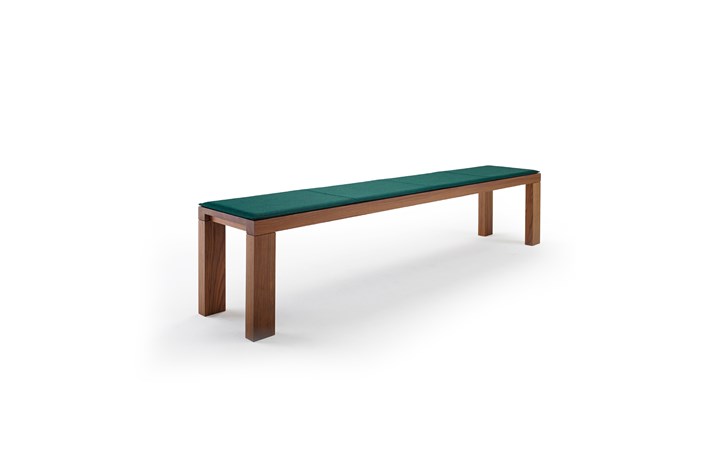 Modular benches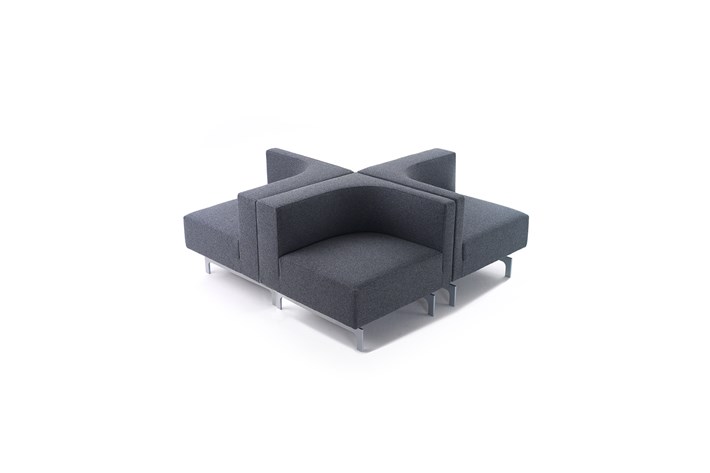 Wooden benches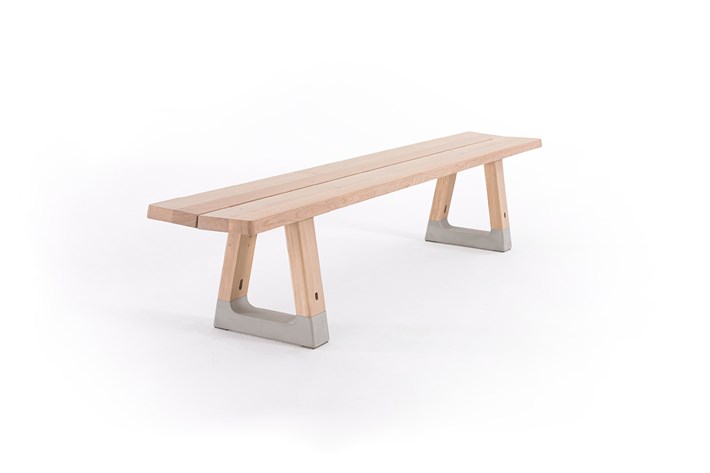 Dining room benches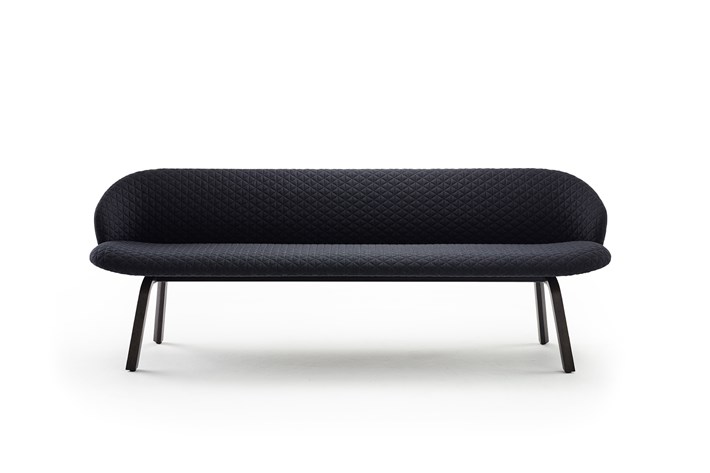 Bench for your dining table

Dining room benches for the dining table
Dining room benches are a stylish alternative for those who want something different than the dining room chair or who would like to make a combination of dining room chairs and dining room sofa. Arco's dining room benches are a smart replacement or addition to dining room chairs at the table. On one side a dining room sofa and on the other side a row of chairs. By using matching cushions and upholstery, the sofa can be perfectly combined with the chairs.
In our range of dining room benches you will find wooden and steel benches in different styles, with and without arm and backrests, in various sizes.
More seating space
A dining bench is a great addition to your interior, whether your dining table is in the kitchen, dining room or living room. A bench alongside the dining table also offers more seating space than normal dining chairs. Ideals for when an extra person joins the meal, or when you're spending a convivial evening around the table with friends. Combine a wooden or upholstered bench with our dining chairs to make your dining area a desirable place to sit. 
Wooden bench at dining table
In our collection we have a wide range of wooden dining room benches. For example, a number of sofas are designed as a family collection in combination with our tables and/or other seating furniture. In addition, we also have a wooden bench that can serve as a unique seating object or can be functionally applied to the dining table.
The following three collections of wooden benches have been designed in line with the design of tables; Slim , Slim+, Base and Essenza.
Our Close bench is designed as part of the Close seating furniture family. In addition, we have produced an iconic wooden design sofa Arc together with designer Bertjan Pot, which can be used as a dining room sofa or as a unique object in any room.
Read more on our various wooden bench options below:
Close bench
Icelandic designer Gudmundur Ludvik designed the Close seating collection for Arco. With the aim of offering very comfortable seating for the home and work environment. In addition to the Close dining room chair, Close lounge and the Close bar stool, Gudmundur designed the Close bench. The organic design exudes lightness and simplicity.
The comfortable Close bench can be expanded from a two-seater sofa to the Connected Close bench, where a length of 426 centimeters can be reached to seat approximately 8 people. Due to the wide range of options, the bench can be placed used in the dining and living room, or an eye-catcher in business areas such as offices, lounges or restaurants.
The seat of the bench is divided into two parts, which allows the choice for a uni or duo upholstery in combination with a wooden frame.
Essenza bench
The Essenza bench is specially designed in combination with the elegant Essenza table. Did you know that the Essenza was Arco's first solid wood table? The collection was introduced at the end of the nineties to give a desired solid wood table a new design language in all its simplicity but with special design and craftsman details.
In both the table and the wooden dining bench, materials have been used efficiently and responsibly. The solid wood dining room bench is available in both oak and walnut, with a minimum length of 100 cm and a maximum length of 220 cm.
Base bench
A sturdy Base bench has been designed to be combined with the Base table. The Base collection is made of solid wood with a concrete base - durable materials that can withstand rough handling. The entire Base collection is part of our Local Wood collection. A collection made from Local Wood, wood from our factory in Winterswijk.
Discover the entire Local Wood collection.
Arc
Our Arc bench is a very iconic wooden design that can be used to accompany the dining table or used as a unique object in any appointed room. Designer Bertjan Pot designed the Arc in the shape of a boat with leather handles.
Bock
Designer Carolin Zeyher designed the Bock bench for Arco and is one of our most recent introductions that introduces a new active seating typology. The Bock can be used at a high table or bar, but also as free-standing furniture object for the living and working environment.
Steel dining room benches

Frame Bench
The modular Frame Bench designed by Burkhard Vogtherr. This versatile bench can be put together in many ways. Placed solitary or in a corner arrangement at a kitchen or dining room table. Design your own Frame bench by choosing from different colors of fabric and leather for upholstery and select the frame in finish pearl chrome or epoxy fine texture on steel.
Sustainable dining room benches
All our dining room benches are exclusively made of PEFC and FSC® certified wood and bear the STIP quality mark. To offer more transparency in the use of materials in our products, we have created an ECO passport for all of them, where an overview of the material composition of each product can be found.
The advantages of benches/dining table benches
You make optimal use of the space
Can be combined endlessly with dining room chairs
Warm appearance due to the choice of wood
It gives a playful effect in your living room and at the dining table
Nice solution if you want to sit at the table with a lot of people
Depending on the design, it can have a tough look
Which bench size and height suits your dining table?
The dining room benches have different sizes to match your dining table. To get an idea of ​​how many people can be seated at the table on our benches,  we take an average of 60 to 70 centimeter space per person. The heights of our benches vary per model. The average seat height that is most applicable to the dining tables is between 45-50 centimeter.
130 cm bench - suitable for 2 persons
180 cm bench - suitable for 3 persons
240 cm bench - suitable for 4 persons
Which height of the bench matches the right height of the dining table?
Bench with a height of 45 cm = suitable for a table with a height of 75 cm
Bench with a height of 51.5 cm = suitable for a table with a height of 75 cm
Type of dining room benches and sofas
Dining room bench with backrest
Dining room bench without backrest
Dining room bench with upholstery
Design dining room bench
Dining room bench with steel frame
Modular dining room bench
Compose your own dining room bench
Sustainable dining room bench
Wooden bench white
Wooden bench black
Dining room bench wood
Wooden bench type wood
Leather dining room bench
Rustic bench
Tailored dining room bench
It is our mission to think along with the customer needs an wishes. We implement these into our designs and the flexibility of our products. Therefore we have benches that can be adjusted in length and height in order to connect to the desired dining table.
On all our product pages you will find a 'tailoring' heading that indicates which products have this option and between which frameworks can be tailored to your wishes.
Also take a look at our tailored tables.
Dining room bench in projects
Did you know that more than hundreds of Essenza benches and tables have been delivered for Apple's new headquarters in Cupertino? Our Essenza collection forms the basis of Apple's cafe, which can seat more than 4000 people. For this project, Arco worked closely with the Apple team and the architect Foster + Partners, from design, development to production.
Learn more about our partnership with Apple.

Dining room benches in interiors
To get an glimpse of ​​the possibilities for your interior, we have included a number of examples on our website to see the combinations of dining room benches and chairs at our dining tables. To get a real feel and idea of all possibilities, discover our dealers close to your address and find a more extensive selection to get a better idea of ​​our possibilities for your home. 
View here examples of Arco's dining room benches used in an interior.
Get in touch about our dining room benches
You can always reach us for any questions and specific information on our materials and colors of a specific product.
Find your dining room benches at Arco
We hope that the above information has given you an idea of ​​our options for various dining room benches. Each with its own style, comfort and material composition that you are looking for your dining table.
View all our bench on our website or at our sales points in your area to find your perfect bench.
We live to last
Arco & sustainability
Read more
Where to order?
There are Arco dealers all over the world!
Find a dealer